SHARE Atlanta
SHARE Atlanta's Fall (October and November) 2011 Updates
October: Pregnancy and Infant Loss Awareness Month
SA's Angel Garden Memorial and Women's Candlelighting
March of Dimes SA Top Family Team Award
SA Inservice for Wellstar Nurse/Social Worker
Group Meetings~FB
Come Join SA as We Make a Difference - Together!!



October: Pregnancy and Infant Loss
Awareness Month

SHARE Atlanta: "The love stays..forever in our hearts."
Jas Gabbidon, from the online newspaper, "Examiner.com", interviewed Marcia McGinnis and used SHARE Atlanta's Story to begin October 2011's Pregnancy and Infant Loss Month" Jas initiated our relationship because she wants to support the issues and needs of the Pregnancy and Newborn Loss Community. We are pleased with every media contact we might have. This is what advocacy and awareness is all about. Jas' special article highlights our angel garden. Consider "liking" her article and/or leave a positive comment. Let her know that we appreciate her efforts in supporting SA and our community. Consider sharing it with your family and friends. What a wonderful start to the month of Oct. that ends with our Angel Garden Memorial!

Staying Connected..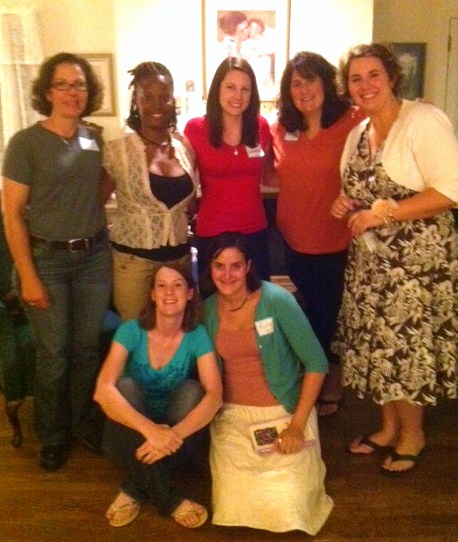 Some of the moms at a recent SA Women's Meeting

Come Visit SA on our NEW FaceBook Page-Check the "Like" button!
Dear All,
October's monthly Women's Grief Group's topic is "Grief and the Significance of your Baby." At this meeting we will discuss the special relationship we have with our precious baby and share mementos, poems, and keepsakes that you might bring. Then, in November, we will hold our annual Women's Candlelight Service.
Lots of positive events in SHARE Atlanta's Fall Gatherings. Click on the hearts/links for details.
1.

SA's Annual Memorial Celebrations - Angel Garden 10th Anniversary Memorial Service - 10.23.11 at 3. IF you wish your baby's name and date(s) to be in the written program, please email Marcia now.
The Angel service is peaceful and comforting. Though it is relaxed, there is a sense of ceremony and a quiet dignity as we honor our babies' memory, and the love we have for them. For the comfort of our newly bereaved parents, we ask that you please leave children under 9 with someone they love. (At different times, we offer other opportunities for younger siblings to be together.) Family and friends are invited to join us.
The service is about an hour long. The program is a mixture of parents who made our angel garden possible, members who have participated before, and new members who are joining us for the first time. We are coming together for a very special ceremony.
Women's Candlelighting: 3rd Wednesday in November at the Women's Meeting at 7 pm.
2.

SA's FACEBOOK is a place where all that we do is shared. Come "like" our page and become a Friend. Then, Visit us often to find new stories, thoughts, pictures, and the latest on what is happening.
3.

Sept. 22, 2011: March of Dimes AWARD - SA - #1 Downtown Family Team since 2005!! Annually, SA members "Walk to Remember" our precious babies as we raise funds for healthy babies. It is one of our "Outreach for Healing" programs.
4.

The Story of SA's Angel 2001 - SA's Angel Garden was another "Outreach for Healing" project and remains as a special haven for healing and comfort. Come join us for the Memorial Service and meet some of the parents who made this beautiful garden possible.
5.

October is "Pregnancy and Infant Loss Awareness" Month - The whys and hows about this month. Get an awareness pin at one of our gatherings and be a part of Awareness and Advocacy.
6.

SA 2011 Fall Member's Updates
7.

APNEC/SA's "The Circle of Healing" October 12, 2011 at 9:45 for 2 hours: SHARE Atlanta and Marcia McGinnis present Marcia's program "The Circle of Healing": an inservice program about the Pregnancy and Newborn Loss Community. For: nurses, doctors, chaplains, social workers, Stephen's Ministry Includes: the grief journey for bereaved parents; what to say/do - not say/do; SA's mission and outreach. This inservice is given twice a year at the Wellstar Development Center on Windy Hill Rd. We also present this at other venues. Email Marcia for information.
8.

"Healing Happens" PDF of SHARE Atlanta Families 2011 by Marcia McGinnis
9.

Seth David McGinnis and MODS' Folic Acid Campaign..Hope Reflections from Marcia on Seth's birthday and SA's MODS' Recognition

Hope to see you at one/some of our gatherings this fall. Let us hear from you. It means a lot to stay connected. Together we work through our grief in order to heal.

Take care,

Marcia

The love stays..forever in our hearts.

SHARE Atlanta's Home Page
Group since 1984
Online since 1997
A self-help and mutual support group
Pregnancy and Infant Loss Awareness...

Officially in October..

Needed Every Month of the Year...

Pregnancy and Infant Loss
Month Awareness Pin





copyright(c)SHARE Atlanta '97-'13



Graphics and "Music Box by Eclipse" on this Site are Copyright...click on owl!