Jas Gabbidon, from the online newspaper, "Examiner.com", interviewed Marcia McGinnis and used SHARE Atlanta's Story to begin October 2011's Pregnancy and Infant Loss Month" We thank Jas for her very special article!
"You made me feel normal in my grief, and you helped me see that eventually life would once again, be worth living. I just wanted you to know that I hold you in the highest esteem. I thank you from the bottom of my heart for all you do." 12/2004
Leah, A SA Parent & Volunteer in 2005-14, In loving memory of Cole and in honor of Katie (03) and Alex (07).

SA Spanish Menu Menu de informacion en Español Con acoplamientos a varios sitios Españoles

Inservices for Awareness and Advocacy..Marcia McGinnis' "The Circle of Healing" provides information for nurses, social workers, chaplains, student nurses, Stephen Ministry, etc.

Online Support for Emotional Healing

SA Partners with Hospice Atlanta for support during this time...."Preterm Diagnosis-fatal/short life expectancy Menu - Perinatal and Newborn Hospice Support now available..."

Now I Lay Me Down To Sleep, NILMDTS
NTLMDTS is a nationally organized group of volunteer photographers who come to your hospital room and lovingly and gently take pictures soon after our babies are born. Many hospitals know about NILMDTS, so ask. If you know that your baby has died or has had a Preterm Diagnosis of a fatal/short life expectancy, you may call them and arrange for them to come to your hospital room. SA parents who have been blessed to have them have some of the most tender and loving pictures I have ever seen. And, the experience has been one of many blessings. (Marcia)

Perinatal Loss Information for those who have had a loss after birthing mulitples(twins, triples...) Climb, Zoe Rose Organization, etc.- Links to Groups that will support you.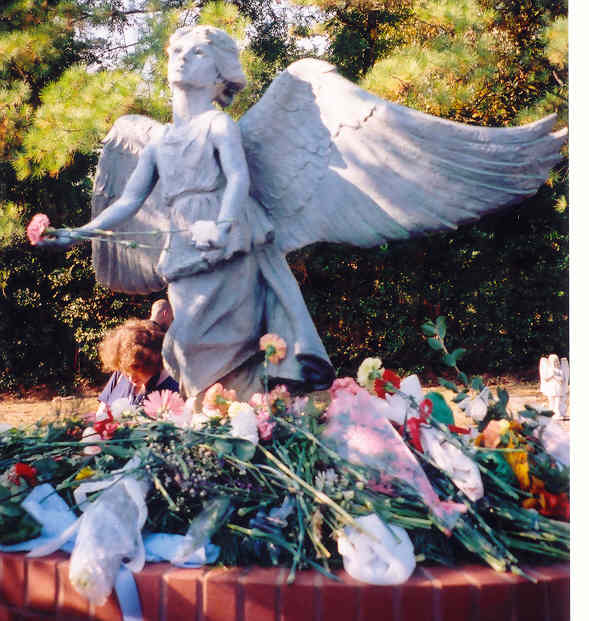 SA's Christmas Box Angel

In 2009 SA mom, Reece Ritter, created this beautiful video that brings together visually the "story" of SA's Angel and Memorial Brick Garden.

SHARE Atlanta's Angel Garden Video

A video of SHARE Atlanta's Beautiful Angel of Hope Memorial Garden at Arlington Memorial Park, Sandy Springs, GA

Click ON ANGEL to ORDER MEMORIAL BRICKS & Story

"Babyland" in Arlington Memorial Park Cemetery in
Sandy Springs, GA

Join with a positive group of healing parents that began online in 1997...
SHARE Atlanta (SA) was one of the first sites to have interactive email exchange..long before forums and blogs. What parents were saying and experiencing then is much like it is today. Though, there is an increase in medical and emotional support because of advocacy and awareness programs. Reading through others' stories can help you understand that others have "been there" and survived. Healing does happen.
Visit often..
Please take your time. Our needs change as we move t-h-r-o-u-g-h the process of grief in order to heal. As bereaved parents, ourselves, we understand the need to slowly work through your grief.
Parents helping parents to heal....
We offer this site, forums, our groups, and materials to help you as you heal. We have found that giving back to our community in memory of our babies is healing and a wonderfully, positive way to remember these special children.

"Healing Happens" PDF of SHARE Atlanta Families 2011 - Highlights HOW to Make a Difference!! by Marcia McGinnis
Parent Support for Healing
Please seek professional and/or medical help for more support in any way. This site is not a substitute for professional guidance.
Sincerely,
Marcia McGinnis,
Webmaster and Co-Founder of SHARE Atlanta


Email Marcia

In memory of Seth, Catherine and Elizabeth McGinnis
This site is updated continuously.


The SHARE Atlanta web site is dedicated in the memory of all the precious children whose short lives touched the hearts and lives of their parents and friends.



Their special gifts and our love for them will be...
Forever in Our Hearts