SHARE Atlanta
SHARE Atlanta's Sept. - December 2012 Updates
Group Meetings~FB~
MODS - 9.6.12 - 3 Awards!! ~
October Pregnancy and Infant Awareness Month ~
Angel Garden Memorial Service 10.28.12 - 3 to 4 pm ~
NEW- "Hugs from Hunter" ~
APNEC Inservice 10.15.12 ~
Stillbirth Research ~
Women's Meeting Candlelighting 12.5.12

October is Pregnancy and Infant Loss Awareness Month
Pregnancy and Infant Loss Awareness Pin
Available at our events and groups.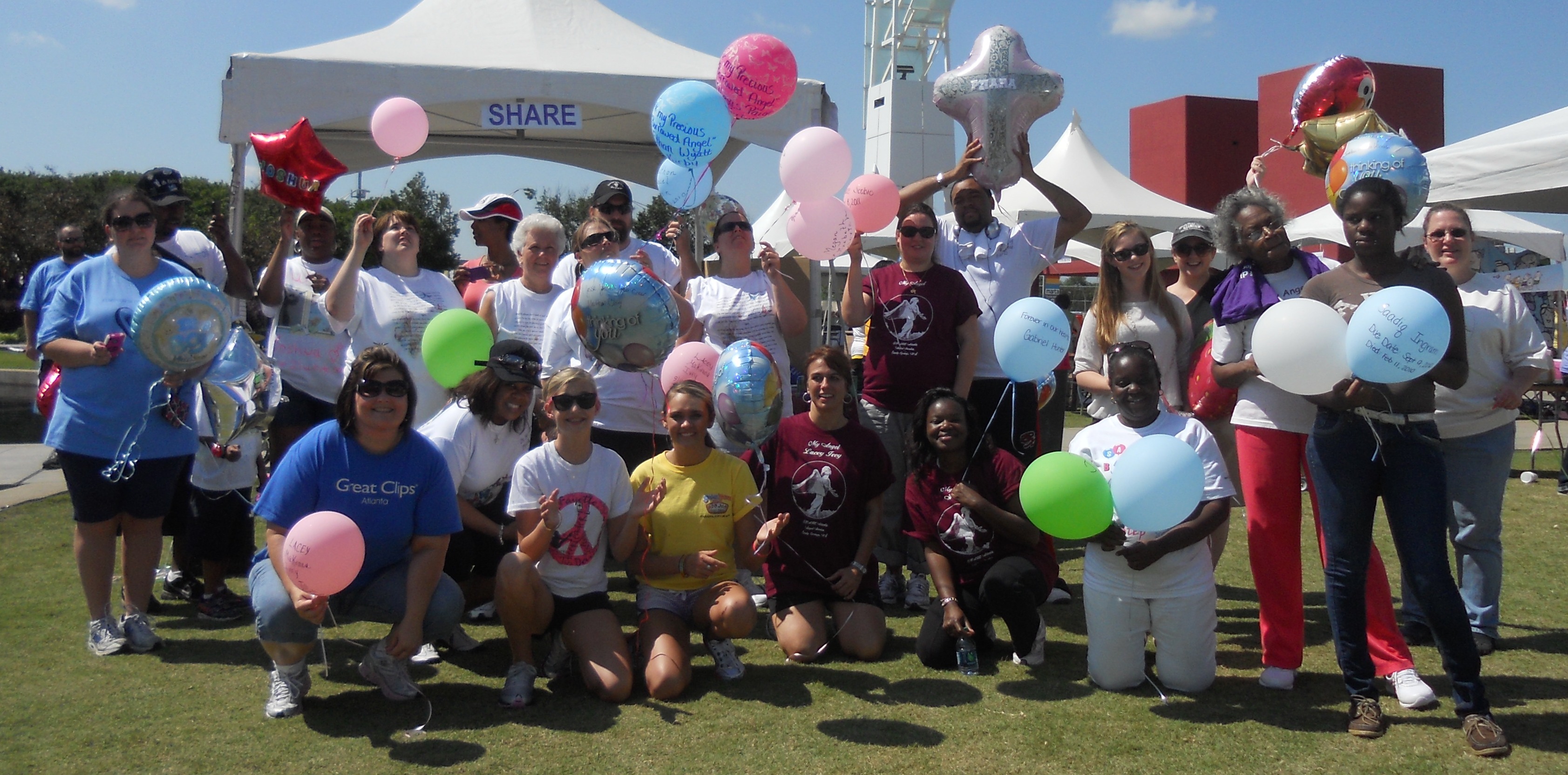 Some of SA's March for Babies 2012 Team
SA's "Walk to Remember"-Balloon Release


NEWS FLASH: SHARE Atlanta Raises over $20,000.
Walked since 1998
#1 Downtown Team and Top Chairman's Team since 2005
THANK YOU CINDY IVEY and TEAM SA!!!!

Dear All,

Please read carefully. Schedule Change: NO November's Women's Meeting due to early Thanksgiving. The Nov. Women's Candlelighting will be held Dec. 5, 2012. There WILL BE an Angel Garden Memorial Service 10.28.12 from 3 to 4 pm. NEW - "Hugs from Hunter" has replaced SA's Ornament & Memorial Tree outreach. See below for Details on ALL EVENTS. Click on Double heart icon to read more...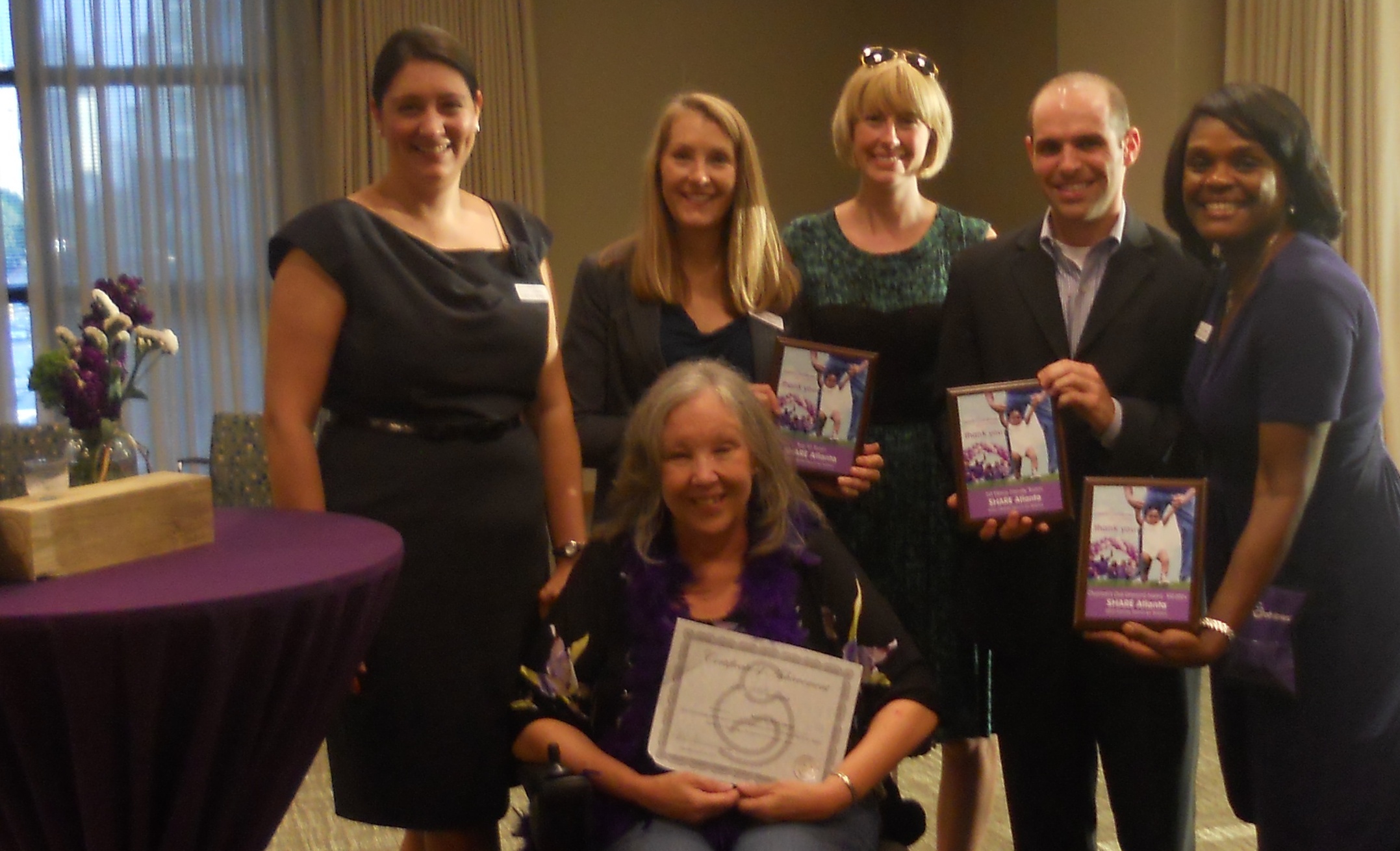 SA's Advocacy and Awareness:
SA's MODS' TEAM WINS 3 Awards!
Chairman's TENT - 8 years in a row!!
Marcia with our MODS' Friends - 9.6.12 Awards Reception

September:

.

1.

Meeting Info., Locations, and Times
"Grief and Future Choices." Grief influences every choice we make. We will talk about the reasons behind this and ways to work with this situation. We talk about going to talk with our doctor, a high risk specialist (if our loss was near the middle to end of our pregnancy), an infertility specialist (if we had repeated miscarriage, one miscarriage, early loss before 14 weeks) and about discussing a birth plan with our OB. Finding a doctor that connects with us on EVERY level for our subsequent pregnancy is critical. Often it means changing doctors or including a specialist that knows the issues inside and out - that might touch us.
We talk with our doctors BEFORE we get pregnant again. Then, we are not caught up in the hormones and emotions of being pregnant. We establish our baseline for what to expect next time so we can know that we are doing all we can. Often, even when our primary care doctor has said there is nothing to do, a specialist (who has seen many, many similar situations...unlike a typical OB) can often suggest prevention and intervention before we ever become pregnant as well as ideas for during pregnancy. Then, we can feel more reassured as we approach the next part of our journey.
2.

"Hugs From Hunter" by Amy Guzowski We welcome Amy's "Hugs from Hunter" to SA's 'Outreach for Healing" program. We are no longer creating a memorial tree each year.

3. March of Babies Award Reception - 9.6.12

Our awards included: Top Downtown Family Team, Top Ten Diamond Chairmen's Team - +$10,000; GO TEAM SA!!! THANK YOU TEAM SA and Captain CINDY IVEY!!

4.

SA's March for Babies' "Walk to Remember" and AWARDS in pictures on SA's FB page.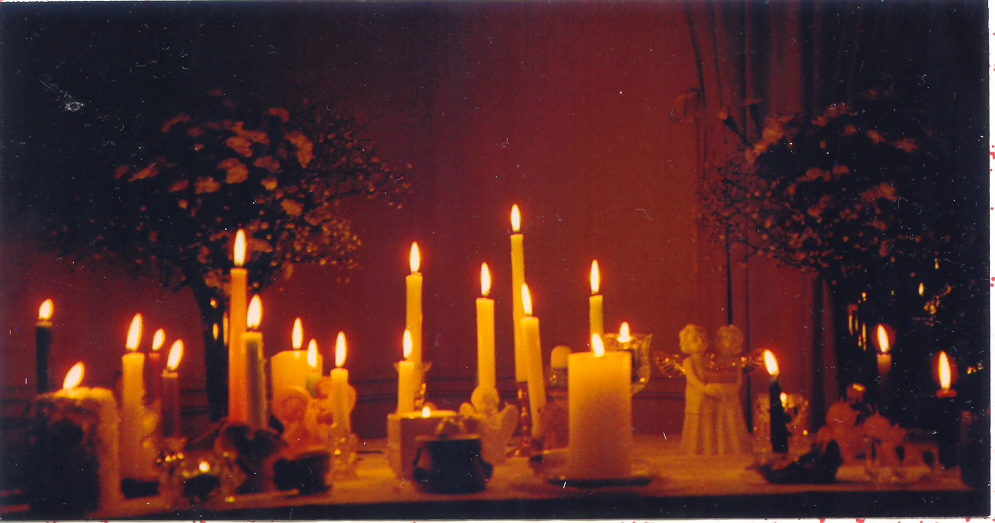 SA's Advocacy and Awareness:
SA's Memorial Services
October:
1.

Pregnancy and Infant Loss Awareness Month for The Pregnancy and Newborn Loss Community.
2.

Northside's Annual "Walk to Remember" 500 plus people
3.

PDF of SHARE Atlanta's Angel Garden Memorial Service (10.28.12 - 3 to 4 pm with 100 or so people) and SA's Women's Candlelighting (12.5.12 - 7pm)
4.

pdf of Flyer for SA's Angel Garden Memorial Service. If you would like to share this event with others, copy the flyer and post it on BB such as at church, community center, or anywhere you think there might be a family who would like to share in this event. Thank you!
5.

Email Marcia your baby's name if you plan attend SA's Angel Garden Memorial Service and wish it to be included in our spoken and written litany. If you would be willing to be a reader (we have the poems..we need readers), please tell me ASAP.
6.

Advocacy and Awareness: APNEC Inservice by SA members (If you would like to consider being part of this, please email Marcia.)
7.

Meeting Info., Locations, and Times
October's meeting topic is the Significance of You and Your Baby. We will be talking about the special relationship we have with our precious baby. Each of our meetings has a booklet of information to further explore our topic of the evening. During our Oct. meeting, we have a designated time for sharing any mementos, our memory books, and/or memory that members wish to bring to our group. If you have experienced a miscarriage, we hope you will join us. We will touch on ways to keep these tiny ones close to us...even when so many around us wish for us to move along. Healing does happen. We explore ways for it to happen. It is always a very comforting and healing time together.

Holiday Support from SHARE Atlanta:
1.

Anniversaries, Due Dates, and Holidays
2.

Coping Ideas for grieving and healing parents
3.

SA's FB page (There are many ideas and pictures on our FB page.)
4.

More information about SA's Memorial Services on our website
5.

2011's Angel Garden Memorial in pictures - Comfort and Peace

November:
1. NO Women's Meeting because of early Thanksgiving
2.

Meeting Info., Locations, and Times

December:
1.

Meeting Info., Locations, and Times
2. Women's Meeting Annual Candlelighting - December 5 at 7 pm at Marcia McGinnis' home - Please bring a special candle to light..if you wish. DO NOT bring food.

Email Marcia if you have a question or for directions

PDF about Candlelighting Service.

August: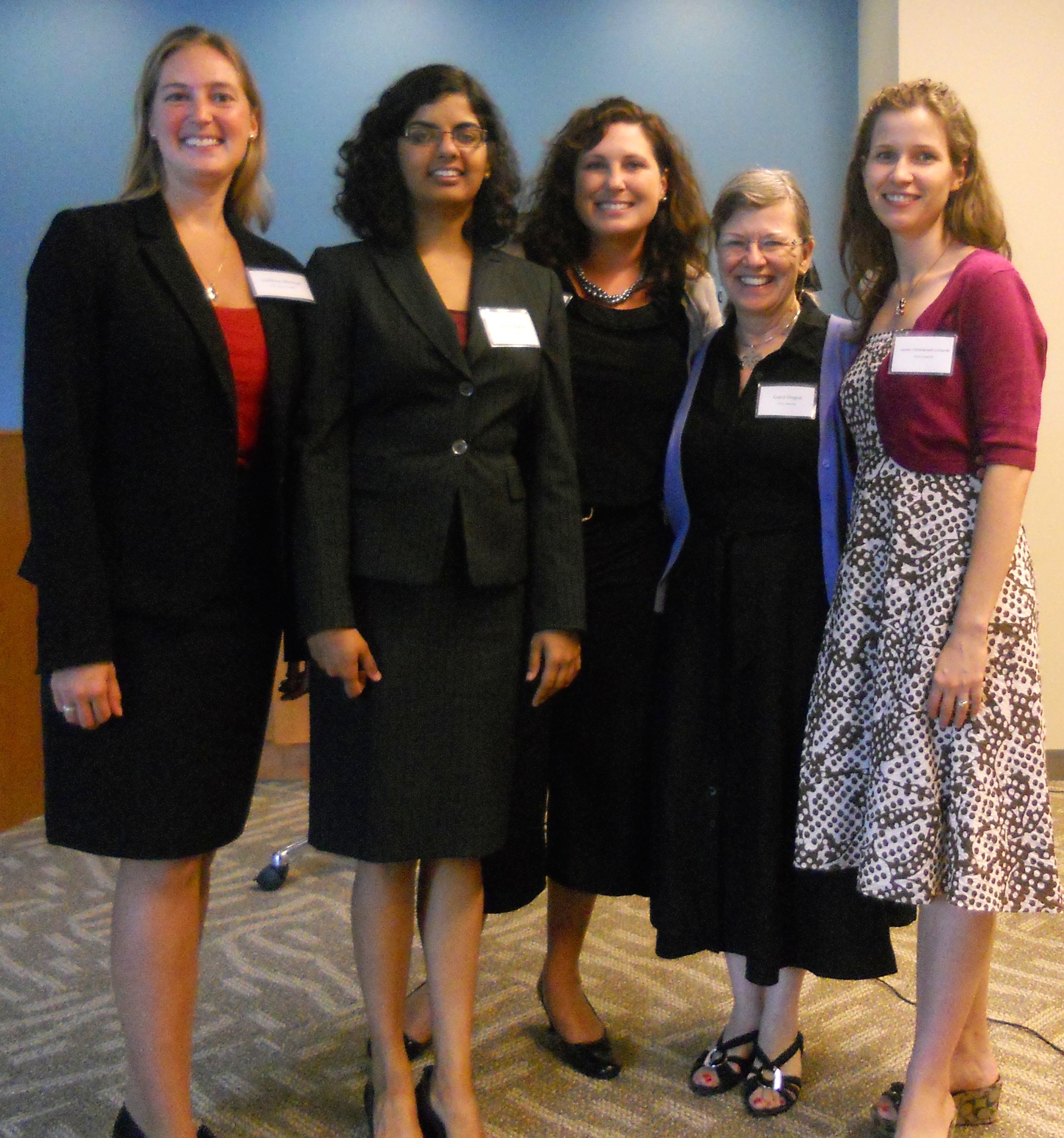 SA's Advocacy and Awareness:
Stillbirth Research with Emory
18 member Stillbirth Expert Panel that Marcia was part of..included...
lt-rt Lindsey Wimmer, EX. Dir. Star Legacy Foundation
Kashika Sahay, Grad. Research Ass.
Christine Scott, Ex. Dir. Western NY Perinatal Bereavement Network, Inc.
Carol J. Rowland Hogue, PhD, MPH Dir. Women's and Children's Center/adviser on this Research Program
Lauren Christiansen-Lindquist, MPH PhD candidate doing project

SA's Advocacy and Awareness: Stillbirth Research with Emory Graduate Student with Dr. Hogue:

Once again, Marcia has been involved in providing information and background about stillbirth based on her 25 plus years of experience in the Pregnancy and Newborn Loss Community. (We were involved in their NIH Stillbirth Study and Wes Duke's, CDC, Stillbirth Survey several years ago.) She has provided her Inservice Booklets, "The Circle of Healing" as well as talking with the researchers. Several of our SA parents who have experienced a stillbirth have been interviewed. Marcia was a part of the Stillbirth Expert Panel at Emory discussing this topic in August. There were 18 participants including doctors, CDC, several perinatal loss representatives, and PRAMS. It is wonderful to see these issues kept at the front of the research and medical world.

A few links from some of the attendees of the Stillbirth Panel:

Western NY Perinatal Bereavement Network, Inc.

Star Legacy Foundation with an opportunity to participate in Star's Study

Carol Hogue and the Women's and Children's Center

Thank you for helping make SA a group that works "together" for healing to happen. We continue to provide different options for healing. Please visit this link for more grief support:

SA's Grief Menu

Marcia

SA's Website
since 1984
The love stays...forever in our hearts.
Website since 1997..We were one of the first sites to have a chat line and to have email exchange to share our stories. Why? We felt that our stories defined why we joined together..and by sharing them we begin to heal.
Here are some links that will tell you more about SA's mission and story...

SA's FB Page FULL of pictures and Information

SA in the NEWS and Ways that "Healing Happens."

Archived Online Newsletters

Archived SA Updates

SHARE Atlanta IS those parents who volunteer with us
~~~~~~~~~~~~~~~~~~~~~~~~~~~~~~~~

copyright(c)SHARE Atlanta '97-'2013



Graphics on this Site are Copyright