SHARE Atlanta
SHARE Atlanta's October 2007 Updates

Candlelighting Services~FOTS~
Support for the Holidays and Healing

Please note especially: Women's Candlelighting Date has changed to November 14th
from November 21st due to Thanksgiving's date.
SA's 2004 FOTs Tree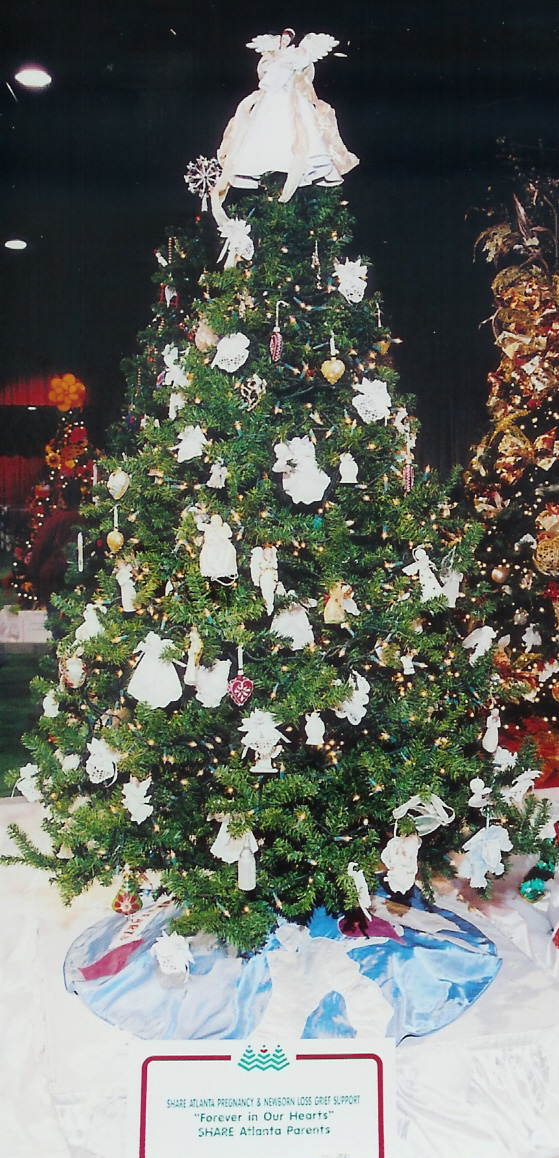 2007's FOT's Theme: "Forever in our Hearts"
Ornaments..Angels, Hearts, Whatever You Wish

Dear All,
As the holidays draw near, there are always difficult times and needs that we must cope with. We hope that some of our information and outreach will help to ease you through these times. We want to extend an invitation to our Women's Candlelighting Service on November 14. Coming together during this time is always very special. Also, we will be decorating our Festival of Trees memorial tree at the service. We have supportive coping ideas online and our forum moderators are there to help you during this time.
Women's Candlelighting

pdf of Invitation to SA's Women's Candlelighting (and, now passed, memorial service).. November 14th at 7 pm

Our website page telling you about our upcoming Women's Candlelighting.
SHARE Atlanta's Annual Memorial Tree for the Festival of Trees

Festival of Trees Memorial Tree 2007 to be decorated at our Candlelighting-click on icon for mor information
At our Women's Candlelighting, we will be decorating our "Festival of Trees" memorial tree to place at Piedmont Hospital. SA member, Julie Franklin, has been talking to perinatal nurse, Libbie, at Piedmont. They are going to use our tree this year and each following year for their annual memorial service for those parents who have experienced a pregnancy or newborn loss. The tree will also be placed in the nurses' station. There will be a framed listing of all of our babies' names while it is in the chapel for the service. Julie has found this beautiful quote to include on the frame and maybe on the tree: "perhaps they are not stars in the sky, but rather openings where our loved ones shine down to let us know they are happy....."
We are going to have a wreath for sale at the Festival of Trees. It will have our name on it and any funds will go to the Atlanta Children's Healthcare System. After they cancelled the FOTs, they reinstated it at the Atlanta History Center. During the confusion, SA thought that there wasn't going to be a FOTs, and we love the memorial tree gift. So, we decided to have it happen at another location this year. Then, we found out that we could have had a tree at the history center. Two trees were too much, so the wreath is what we are doing this year. Some of the memorial ornaments may be included on the wreath.

For pictures of our past Festival of Trees "Forever in our Hearts" memorial tree and ornaments


Your Gifts Open Doors
Our baby's gifts may lead to new horizons for support and healing. They also may lead to new ways of making a living. I have started a new page that will be dedicated to some of our parent's new venues that are a direct response to their walk to heal after the death of their baby. I will be adding members as I am aware of new ventures. Please visit and learn about Betty Miller's books, Hayden and Maria Elie's "Rachael Retreat" and Handmade Quilt Raffle - get your ticket at our groups, Kim Shifltett's memorial jewelry, Allysa's dolls, and Robin Clay's book. We each find ways to heal. We each find ways to make our children's lives meaningful. We embrace every person's efforts.
Many of these venues also will provide ways for coping through the holidays. Visit the pages and speak with our members. They will understand.


Support for Coping with the Holidays
The Holidays are never easy. Both of our groups in November will be talking more about how to cope with these days. Please visit our website for more support during this time. Doing what is comfortable for you is very important. Family members and friends may not understand all your needs. It is important to listen to your heart and be gentle with yourself during this time. Join us on our forums, too, as we support each other through these days.

SA's Yahoo "Grief Support Forum"

Each time as we come together ~

We hope that these special services, activities such as our festival memorial tree and our meetings - all in memory of all of our babies, help to bring you hope, peace and continued healing. As we share together, we know that the love we feel for our children will be forever in our hearts.

Take care,

Marcia

The love stays...forever in our hearts.

http://www.shareatlanta.org



copyright(c)SHARE Atlanta '97-'07



Graphics and "Music Box by Eclipse" on this Site are Copyright...click on owl!