SHARE Atlanta
SHARE Atlanta's Festival of Trees 2007 - Decorated at our Women's Candlelighting
Festival of Trees: CHANGE of VENUE...The staff of Festival of Trees cancelled the FOTs then moved it to the Atlanta Historical Society...
2007's Memorial Tree
At first, we were saddened by the cancelation then it was late to join on with the new venue. So, though we will miss joining together to decorate our annual memorial tree downtown for the FOTs, we have planned another venue. Our volunteers felt we should still decorate a smaller tree in our babies' memory and donate it to a good cause. Julie Franklin has been talking with Libbie at Piedmont H. We will have the tree there for their pregnancy and newborn loss memorial service in Dec. and then they will place it in the nurses station. They will display our tree each year for the memorial service. There will be a framed listing of all of our babies' names while it is in the chapel for the service.
At our Women's Candlelighting, we will be decorating our "Festival of Trees" memorial tree to place at Piedmont Hospital. Julie has found this beautiful quote to include on the frame and maybe on the tree: "perhaps they are not stars in the sky, but rather openings where our loved ones shine down to let us know they are happy....."
This year's theme will be "Forever in our hearts" and your ornament may include one that reminds you of your special baby or one that you would buy FOR your baby. This could mean: pretty angels, hearts, stuffed animals, etc. You might consider buying one for the tree and one for you to keep. Remember to have the ornament in a box or bag with your baby's name and your name on a piece of paper within the holder. We will have a written litany on our site with a picture of our tree and where it will be placed. Again, we will be sharing these at our Candlelighting.
2007's SHARE Atlanta Wreath
We are going to have a wreath for sale at the Festival of Trees. It will have our name on it and any funds will go to the Atlanta Children's Healthcare System. After they cancelled the FOTs, they reinstated it at the Atlanta History Center. During the confusion, SA thought that there wasn't going to be a FOTs, and we love the memorial tree gift. So, we decided to have it happen at another location this year. Then, we found out that we could have had a tree at the history center. Two trees were too much, so the wreath is what we are doing this year. Some of the memorial ornaments may be included on the wreath.

E-mail Marcia your baby's name either specify "MS" for the Memorial Service Litany or "FOT" for the Festival of Tree's Litany (or both!) in the subject line of your email.
SA's 2004 FOTs Tree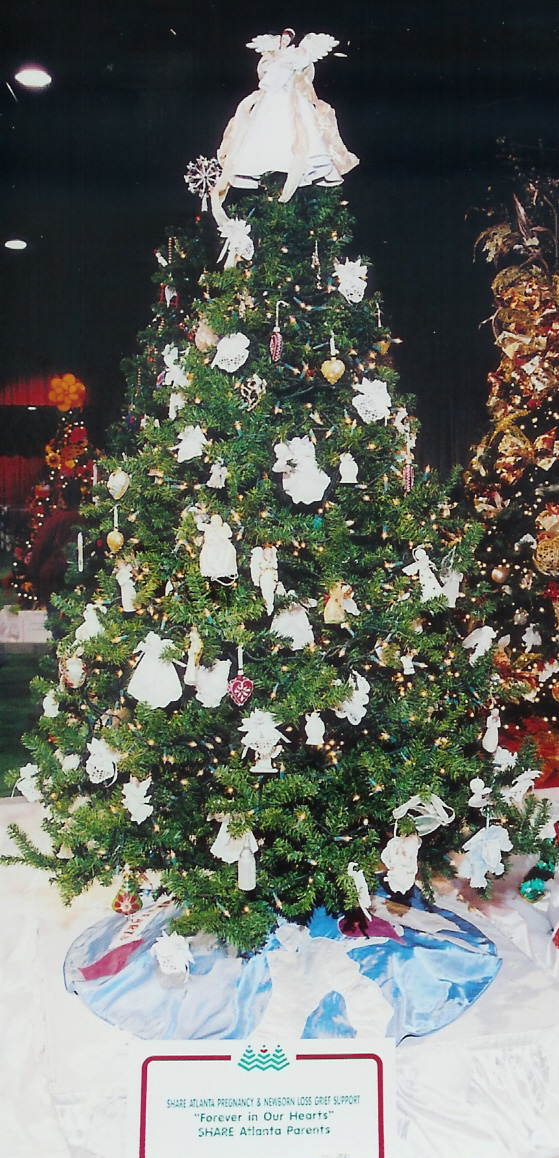 2007's FOT's Theme: "Forever in our Hearts"
Ornaments..Angels, Hearts, Whatever You Wish that is special for you and your baby
copyright(c)SHARE Atlanta '97-'07



Graphics on this Site are Copyright