SHARE Atlanta
2011 October Awareness and Advocacy
10th Annual Angel Garden Memorial Service

SA's Angel of Hope is the 24th one.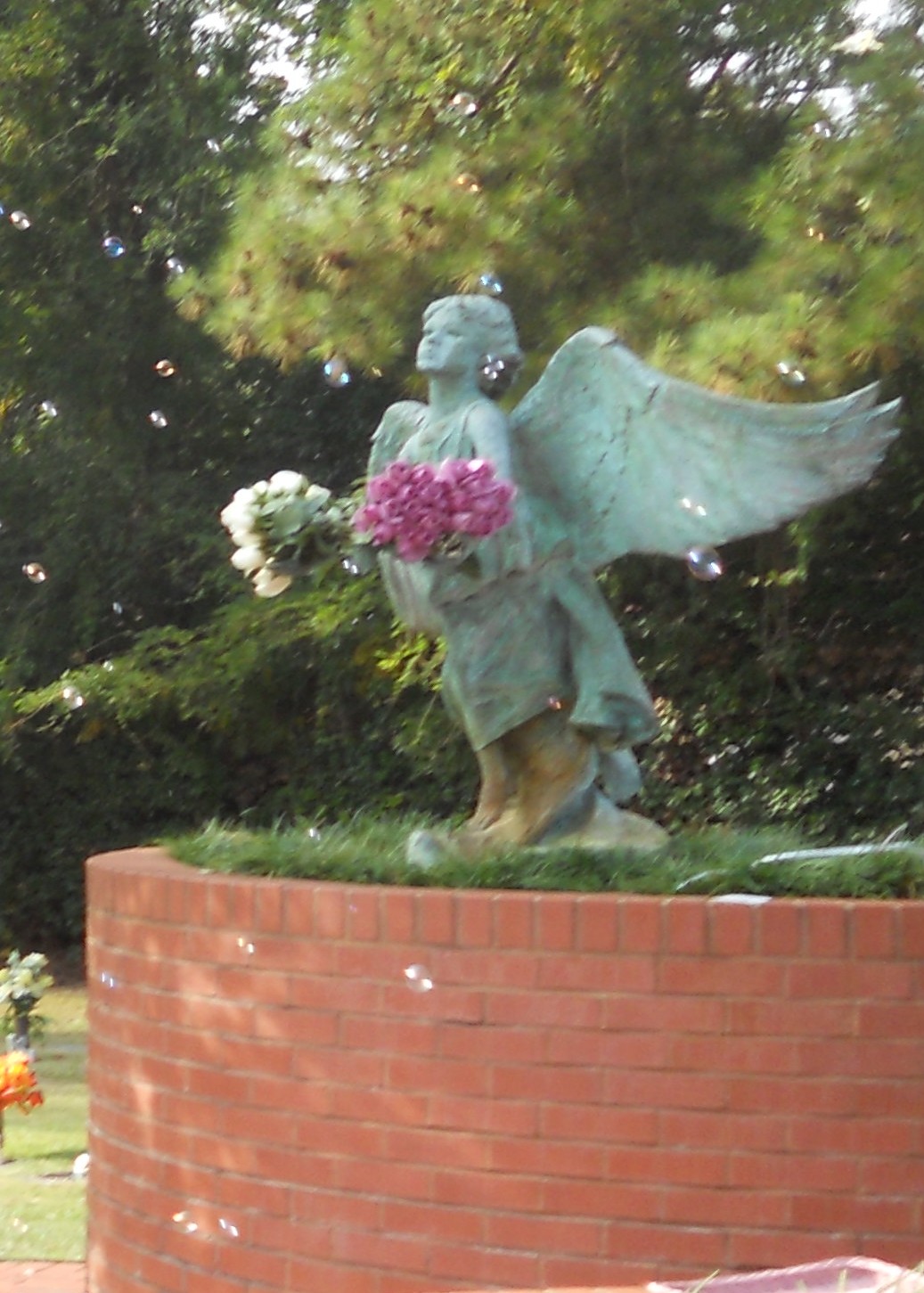 Angel Surrrounded with Bubbles Being Blown by Families

"..Bubbles can only be seen
for a moment
before they disappear,
but even for a brief time,
how beautiful they are.
..Though we can no longer see our babies,
We know they were here,
and they were beautiful."

SA mom, Karen Verner, 10.25.11

Highlight of SA's October 2011 by WSB
SA's Angel Garden Memorial Service
People 2 People, Nov. 6, 2011

Click on the "hearts on a rope" icon to visit link

Angel Garden Video

In 2009 SA mom, Reece Ritter, created this beautiful video that brings together visually the "story" of SA's Angel and Memorial Brick Garden.

SA's 2011 Angel Garden Program, Litany, and Pictures
Please be patient - It may take time to download the pdfs.

"SA Program - PDF

"SA Program Pictures - PDF
More pictures to come!!!

"SA Litany of Our Babies - PDF

Thoughts and Comments about SA MS 2011


SA's Angel Garden Memorial Service On People 2 People, Nov. 6, 2011
Joceyln Dorsey Opens/Closes with these words: SHARE Atlanta - "Dozens of families gathered recently for a different type of celebration. It was a special memorial celebration in memory of so many babies, gone too soon. SHARE Atlanta is a volunteer, mutual help group for families who have etopic, miscarriage, stillbirth and newborn loss. The non-profit organization is free and supports more than 500 families. For more information visit the website shareatlanta.org"
Marcia's Thoughts: This is a beautiful sharing of SA's Angel Garden Memorial Service, 10.23,2011. Again, a very special THANK YOU to WSB - Dwayne the videograher and, of course, Jocelyn Dorsey. We very much appreciate her/their ongoing support over the last few years. Also, a big thank you to Kathy Powell for making the connection and the other SHARE Atlanta parents who also shared their thoughts that day. In the background, you can hear Amon Sherriff's gentle and peace-filled music that added to this special ceremony. We come together for comfort and for healing. Our babies will be..forever in our hearts.

SA's children are a very special part of our group. When our baby dies, some parents have living children, and other couples experience the death of their first baby. We all are concerned about how this grief will impact our evolving family. SA encourages parents to be truthful and open about their experience. Our precious babies will always be a part of our family, and forever in our hearts. On Oct. 23, many of these children and their parents have come to remember and to honor their special baby.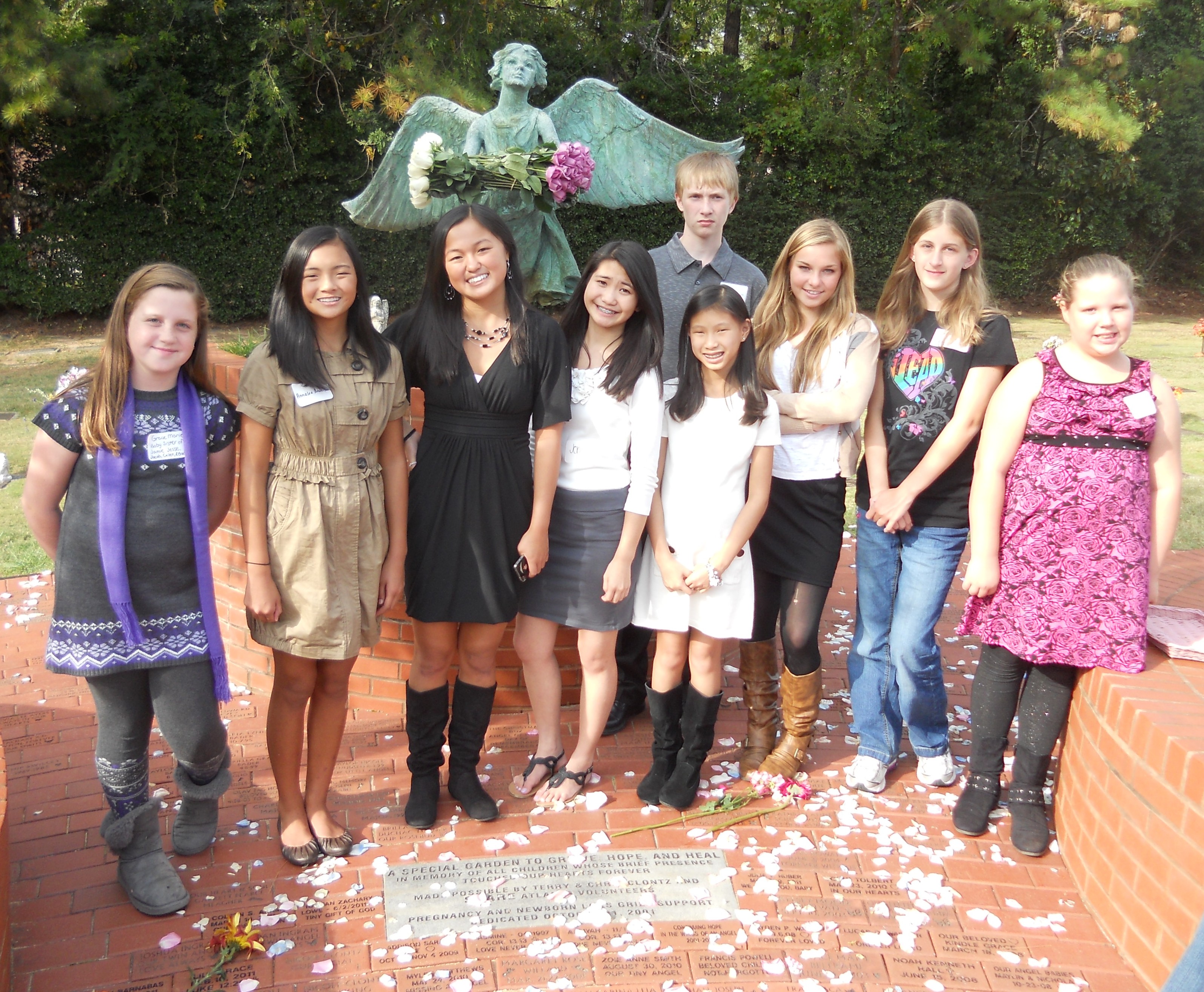 Grace, Annalea, Elyse, Jenna, Sophie, Joseph, Abby, Katherine, Natalyn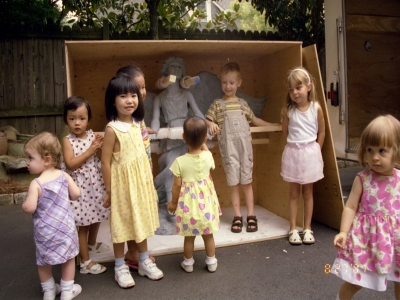 Our children remember in love. These young people are all "subsequent siblings." As under 5 year olds in 2001, they were in awe of our angel. Their families were instrumental in making SA's Angel Garden a reality for lasting peace and comfort. Gathering, once again, by the angel, they lit the memorial candle in memory of their precious siblings.

These children in 2001 as they look at the angel.

A Touch of Hope from our memorial program
Jennifer Greer SHARE Atlanta 2001
"My dreams came true when the Atlanta angel was delivered. As the crate was pried away, the first thing I saw was her arms, those outstretched arms that say "up." I became so still at the sight of her, not high over my head but the height of a child, that someone asked me what was wrong. Nothing, nothing was wrong. At last she looked truly right to me, her face tilted towards mine, those arms reaching out for me. As our living children held her hands and marveled at her bare feet, I traced the word "hope" with my finger. We examined her a parent does a newborn babe, counting her toes and looking into her eyes. Joseph Keen, age four, crawling all around her, bumped his head On one of her wings. Though they look fluffy as a cloud, the clang told us they are not. He wailed, "I wish that angel didn't have wings!"
That's what it comes down to, doesn't it? We all have cried out at some point, wishing those angels didn't have wings, that they only flew high in our arms. And yet, look at the dreams they have inspired, the hopes they have nurtured , the acts they have prompted because they do indeed have wings. I whispered to myself, to my children, "if you can't be with me, my angels, then take on wings and fly! ..until I am with you again."

Sharing and Caring tied with Advocacy and Awareness
Key for members of SHARE Atlanta

SHARE Atlanta: "The love stays..forever in our hearts." 9.2011
Jas Gabbidon, from the online newspaper, "Examiner.com", interviewed Marcia McGinnis and used SHARE Atlanta's Story to begin October 2011's Pregnancy and Infant Loss Month" We thank Jas for her very special article! Jas attended the memorial service with her three children. We thank her for all she has done for SA.
Two Articles written and published in local online newspapers - by SA mom, Kathy Powell, 10.11. We thank Kathy for using her talents to help spread information about SA and The Pregnancy and Newborn Loss Community's Issues and Needs.

Sandy Springs Patch: SA Memorial Service Honors Babies Lost to Pregnancy or Newborn Loss

Dunwoody Patch: SA Memorial Service Honors Babies Lost to Pregnancy or Newborn Loss


Oct: Pregnancy & Infant Loss Awareness Month


copyright(c)SHARE Atlanta '97-'13



Graphics on this Site are Copyright