SHARE Atlanta ~ Marcia's and Other's Thoughts about SA's 10th Annual Angel Garden Memorial Service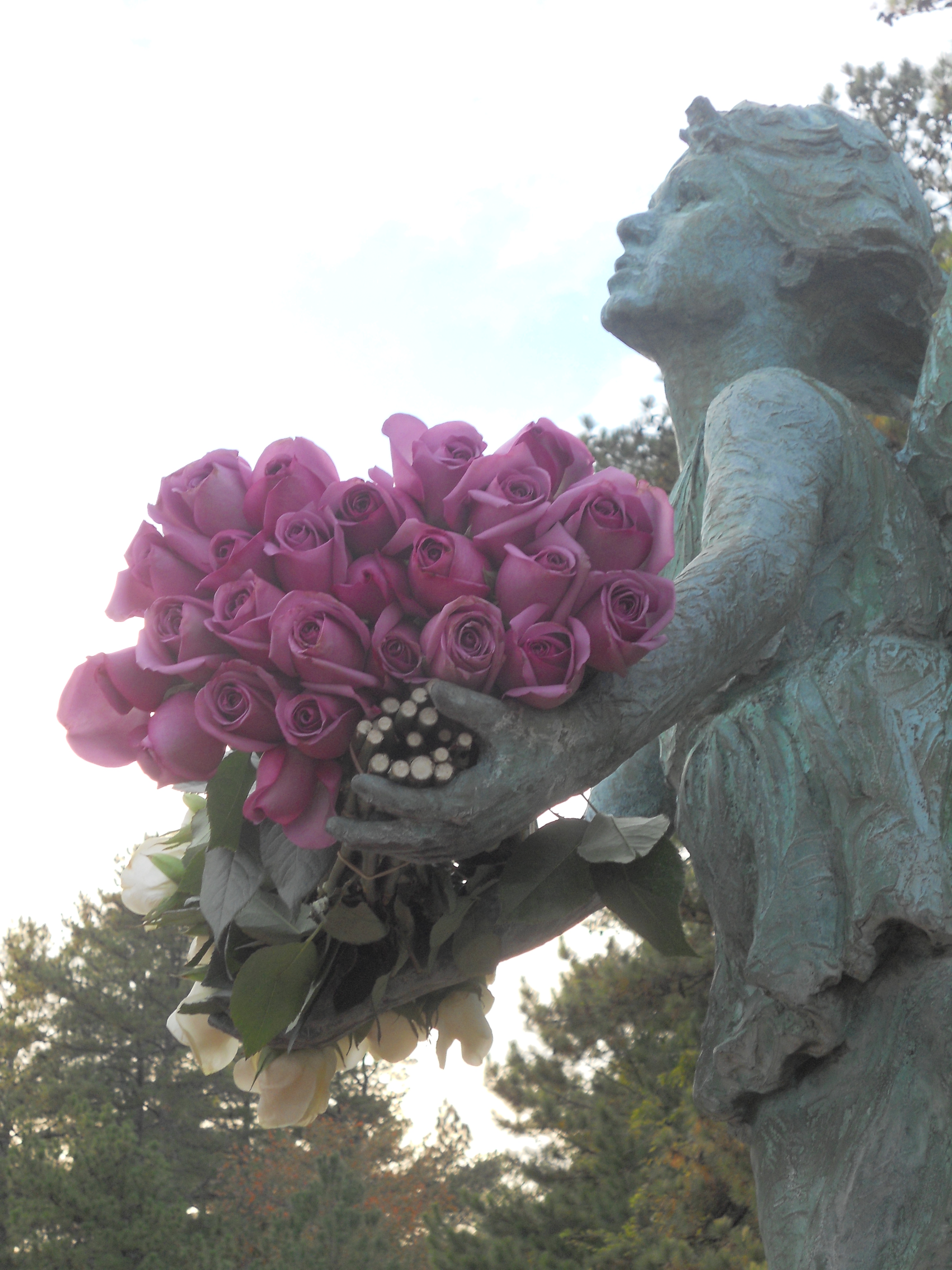 SA's Angel on Oct. 23, 2011

Thereíll come a time, I promise you.
When you will hold my hand.
Stroke my face and kiss my lips.
And then you will understand..

Although my body you canít hold.
You may not be able to gaze into my eyes.
That doesnít mean I never ďwasĒ
An angel never dies....

Remembering Our Angels
October 23, 2011
The Flatts

Jocelyn Dorsey's Thoughts about SA's Memorial Service
Kathy, Our videographer was very moved by the ceremony. I hope we do it justice! Now that we have video, we would like to be your media sponsor in publicizing the event next year before-hand. So as soon as you have a date, let us know so we can put it on our calendar. Look forward to working with you, Jocelyn
Marcia's Response: We thank WSB and Jocelyn Dorsey for their continuing support of SA and the BEAUTIFUL piece they aired about SA's memorial service. Recognition of the Pregnancy and Newborn Loss Community's issues and needs by WSB provides much validation for our needs and issues. The beauty of their piece reflects our hope for the memorial service to provide comfort and support for grieving parents and families. Healing does come with continuing permission to express the reality of our babies and our healing path. Every time SA is a feature, it brings more parents to our doors. For that, we are thankful. We also thank them for wishing to be SA's media sponsor in publicizing the event next year before-hand. Thanks to - WSB and Jocelyn Dorsey, Myrna Moore, and Dwayne..all of them help us to make a difference for grieving families.

Karen Verner's Thoughts about Jonathan and SA's Memorial Service
Hi Marcia, I have thought all week on what to say about what this yearís Memorial Service meant to me. I have experienced other losses in my life, but losing my Jonathan completely changed the person I was to the person I am today. This being the 10th anniversary of the dedication of the angel, was also my 10th anniversary of the first memorial service I attended and I have reflected on how different yesterday was for me than that first service.
It had just been a little over 6 months then since the loss of my Jonathan. I remember being in the SA meetings and thinking that everyone who told me things would be okay again was crazy. How could it possibly be okay again? My son was gone. A son that I loved and wanted to raise. Each month, for over a year, I went and I listened to other parents tell about their losses and gradually I shared about my Jonathan. I started to find comfort at the meetings. I realized the more that I shared with others, the more my heart began to heal. Today, I am no longer consumed with grief, but instead, in its place, are memories of carrying him, the happiness I felt then and the hope that each time I talk about him now, it is not with sadness, but with hope for an even better future. As I was telling you the other day, I like sending out the parent packets because each time I do, I remember that someone did that for me once and itís such a small task with such a big impact.
The first thing that stands out about that day just as it did this year was hearing Jonathanís name read out loud. There is still something so precious about hearing his name spoken, acknowledged and remembered. As we released the balloons and blew the bubbles, two things came to mind. First, as I watched the balloons as they drifted towards Heaven and I thought how appropriate it was that it seemed that the larger balloons seemed to wait on the smaller ones, as if to guide them along the path and show them the way. Also, I thought of how the bubbles can only be seen for a moment before they disappear, but even for a brief time, how beautiful they are. This made me think of how even though we can no longer see our babies, we know they were here and they were beautiful. My Jonathan was such a sweet and precious gift to me and even if I never have any other children,I know, without a doubt, that I am a Mother.
It has been said before that SA was never a group that we wanted to be a part of, but we canít imagine not ever knowing the people we have met here. SA is a group of amazing, strong, loving and giving parents, each of whom gives their time and talents to help others. The Angel Garden is just one example of this. Out of our losses, we can find many gifts, one of which is the strength and courage to reach out our hand to the next parent who needs it.
I think of the poem from Sunday about grief being a circle and not a line, but I think in a way, itís both. Itís a circle because we circle around those who need lifting up during the hardest times and itís a line because when we do reach out to one another and they reach out to us it forms a solid line of hope that cannot be broken.
As always, it was a gift to me to participate and help with the Memorial Service. The love staysÖÖ.forever in our hearts!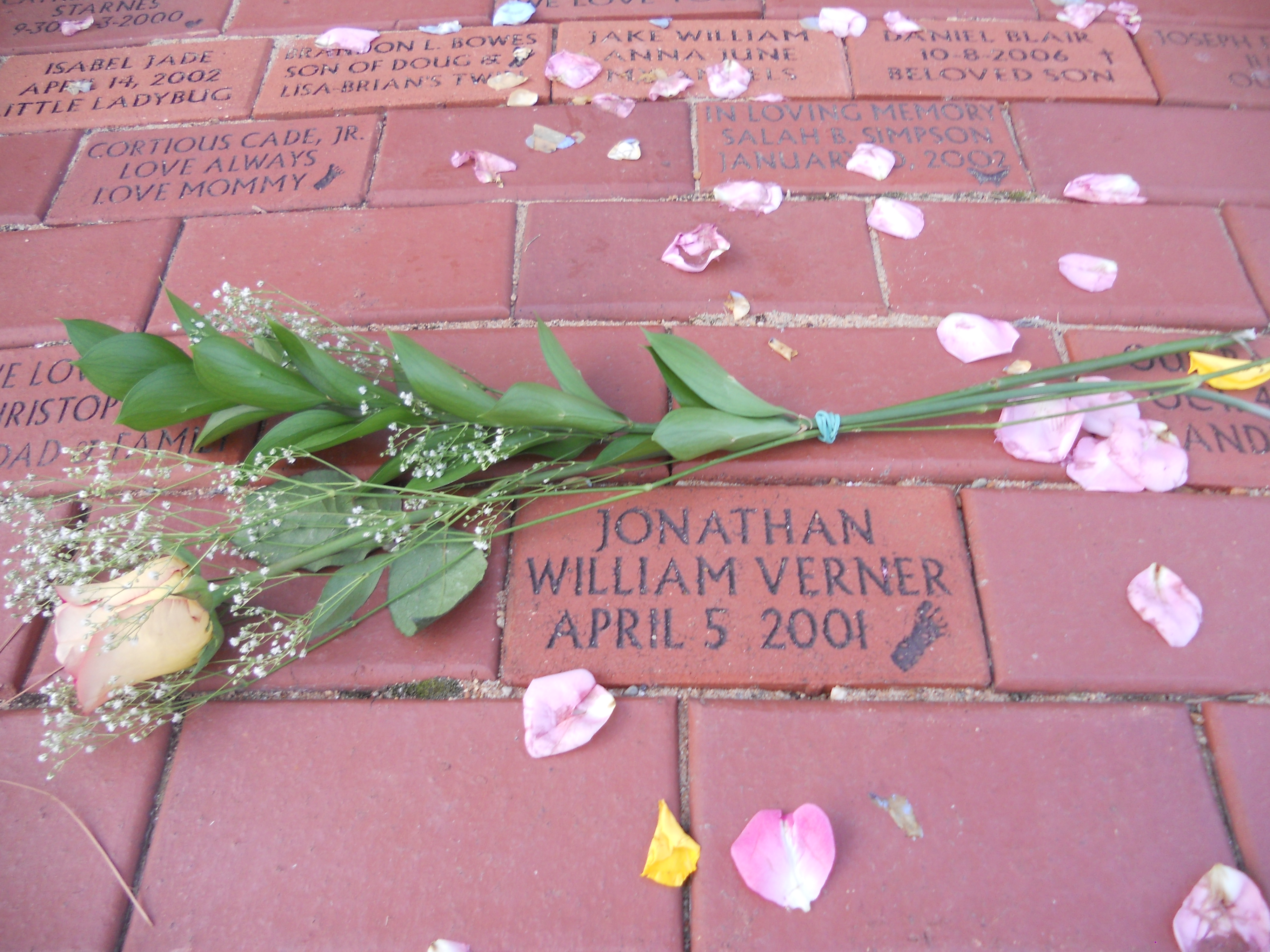 Jonathan's Memorial Brick on Oct. 23, 2011
Marcia Comment: Thank you, Karen, for expressing your thoughts about the program, your feelings 10 years ago and today, and some of the meaning that you felt within the ceremony of the program. Thank you, too, for all you have done for the families of SA. Leading groups, doing inservices, supporting our memorial services, and mailing parent packets. EVERY one of these helps SA to continue to support grieving families. I do appreciate your taking time to write your thoughts.

Marcia McGinni's Thoughts and "Thank you" to those who participated in the program.
Hi, What can I say? As tired as I was last night, I could not go to sleep for reliving all of yesterday's beautiful memorial service. So many loving and special people and thoughts all in one "safe haven" created in memory of our precious babies. God blessed us with a BEAUTIFUL day and the strength and courage to honor our children while reaching out to others who also had the courage and strength to attend.
We all know grieving is hard work. We know that the "path of what will be" is never easy. But, we have come to understand what Pam's poem means: "together we can make it through to the other side." Having our older children participate was one validation of that. There, also, was appreciation of healing for several who have made that path of "what will be" a loving and significant one without subsequent children. There are many options for healing. The beauty of it all is that in that diversity is the very framework of life.
A heartfelt "thank you" to each of you for sharing and caring yesterday. You showed this in many different ways: from the kind welcome at our Guest Table; to every SA parent written poem read with loving care; the meaningful song written and sung; all the young people giving their time; the 10th anniversary memorial brick with pink and blue rose petals; Amon's enchanting music; the angel's roses; and, of course..our babies' litany with handmade Angel Mementos. All uplifted, as we closed, with the graceful floating of balloons and bubbles towards the sunny, blue heavens!
We have always said that what we do in SA is all in memory of our babies. We wish to heal and to help others heal (a Mutual Support Group). That is all we really need to know and to feel. But, it is truly validating and uplifting to share meaningful stories or thoughts all along our way. So, if you have a special experience or thought that is an outcome of yesterday's program, please consider sharing it with us.
Another lasting memory - all the hugs of support and the many loving connections that I witnessed yesterday. These are the essence of SHARE Atlanta.
THANK YOU for sharing... All in memory of our precious babies...The love stays..forever in our hearts.



Return to SA Memorial Service 2011




copyright(c)SHARE Atlanta '97-'13



Graphics on this Site are Copyright