SHARE Atlanta's - "Festival of Trees -
Details about our 2004 Tree...Dec. 4-12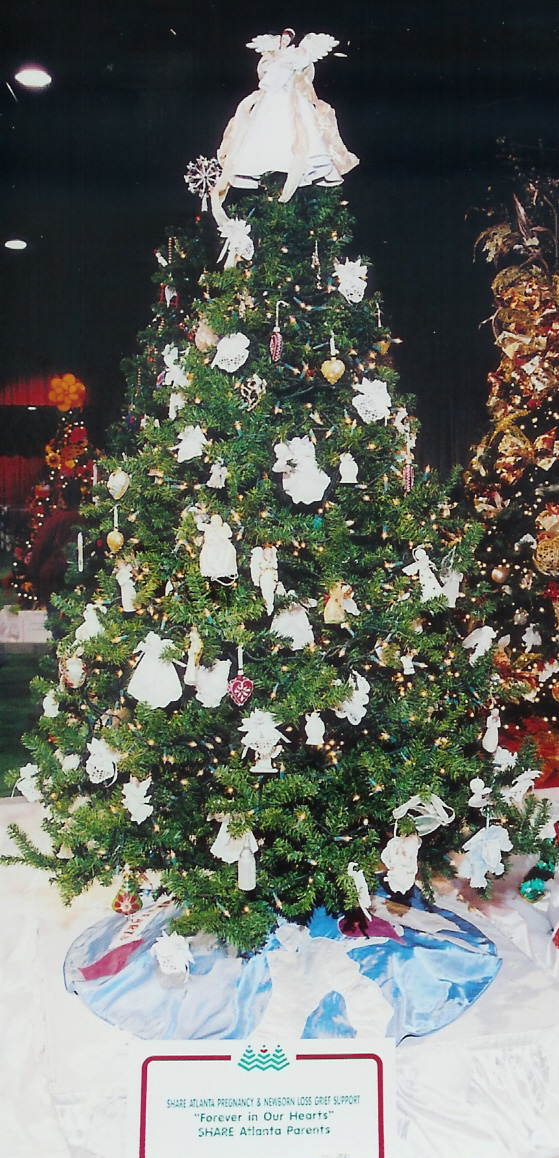 Click on the small tree for an enlarged picture of SHARE Atlanta's Memorial Tree
Decorating our tree
On Tuesday, November 30, Erin Dickerson, Suzanne Chezem, LaWanda Lee, Julie Franklin, (all new members since January 2004) and Marcia McGinnis, Diane Jordan and Polly Keen (SHARE Atlanta volunteers) joined together to decorate the SHARE Atlanta memorial tree for the Festival of Trees. Kim Schulte and Angie Purcell had been part of the committee as well, and Debbie Bader (also new members) made the beautiful tree skirt, but could not decorate the tree due to illness or a prior commitment.

Click on the small tree for some more pictures of our volunteer committee, some of the decorations, and our tree skirt.


Angel holding baby topper
click on picture for her special story
and how you can order


To locate our tree ~ Look for Angel and Baby Topper!
As you come through the entrance look for the top of the carousel and head towards it. Our tree is behind the merry-go-round and near the lamp post at the tip of the line of trees that faces the legoland exhibit. You have to pass our tree to go to the children's train station - it is to your right as you pass the legoland to your left! It is on the right by the lamp post. Un. of GA's international tree is on one side and the Boy Scouts of America is on the other side.
Look for the angel holding the baby topper and lots of angels and hearts. We had a lot of fun decorating the tree!
Gingerbread House and Written Litany
SHARE Atlanta's written litany of our babies' names, of those who participated in the project, will be found at the Gingerbread House that is down the aisle from our tree (facing our tree it will be to the right almost to the other wall).
In keeping with our twentieth anniversary, the litany also celebrates the memory of the babies of some of our members who have volunteered with SHARE Atlanta since 1984 until the present time. Many still volunteer "behind the scenes" in a concerted effort to continue the outreach of our organization. We wanted to include many of these names in a "thank you" for their wonderful support of our organization. It is not a complete listing because I didn't want to include anyone's name without asking, and I could not reach everyone. But, it is warm memories and a heartfelt thank you to all who have helped to make SHARE Atlanta possible through the years.

Online 2004 Litany...
LaWanda's thoughts on decorating our tree:
"I wanted to say that I really enjoyed decorating our tree yesterday. It was such an emotional experience to see all of the ornaments and to know that they represented our children who were taken from us too soon. I thought about the fact that it is only a tiny fraction of the little lives that are lost; just think if every single SHARE Atlanta member had an ornament we wouldn't have been able to fit them all on the tree. It made me a little sad. Then I thought about the opportunity to honor our babies and share our love for them with others and it filled my hear with joy. What a wonderful gift to our babies in heaven for this holiday season."
One mom's letter to encourage others to visit our tree
You might consider doing something similar for people you know.
Greetings,
As all of you know, I suffered the terrible loss of my two beautiful twin boys (names them). These months have been extremely difficult, but my husband and I have found tremendous support in our faith, family, and friends. I joined a support group called SHARE Atlanta (http://www.shareatlanta.org ) which has also been a tremendous support to both my husband and myself. My group is composed of parents who have all lost children to ectopic pregnancy, miscarriage, mid-pregnancy, and newborn loss.
I've learned an awful lot as a member of this group. One of the most startling things I've learned is that many doctors associated with the March of Dimes estimates that 50% off all pregnancies in the US end in miscarriage or pregnancy loss. The happy ending that we all hear about is not always the case.
This year is the first year SHARE Atlanta participated in the Festival of Trees at the Georgia World Congress Center. We created a memorial Christmas tree in honor of our angel children who have passed away. Special angel and heart shaped ornaments were donated in memory of all of our children and placed on the tree. The tree is also adorned with a beautiful tree topper of an angel holding a baby in her arms.
I would like to invite you all to the Festival of Trees this year for a look at this wonderful memorial tree. For those of you so fortunate, I also wanted to share that the tree can be purchased and delivered to your home intact at the end of the exhibition. All monies go towards the Children's Hospitals in the Greater Atlanta area for the care of sick children. If you plan to attend the Festival of Trees, please stop by the Gingerbread House for more information, directions to the SHARE Atlanta tree, and a written litany of our babies' names. Thank you for your time.
Positive feedback:
This mother informed me today that several in her office have told her how much they appreciated her letter. One couple had experienced two losses and plan to visit the tree and were grateful for the information about SHARE Atlanta.
And the Gifts continue...
You will not believe this! I sent a letter similiar to the one above to my coworkers. Our PE teacher said he couldn't attend the Festival of Trees, but gave me a $500 donation for Children's Healthcare. I am in shock at his generosity! His wife had a miscarriage and they now have an 18 month old. Angie, another tree committee mom
Marcia's thoughts:
My goodness...what a generous gift. It certainly says so much for him and for those who have experienced such a loss.
We need to make sure that it is understood by the Festival that it is because of SHARE Atlanta's tree and your note that you received this gift for them. The reason is because it is another "advocacy" for our issues as well as those that the festival supports. If this family had not had a miscarriage, the money might not have forthcoming.
I had asked one of the volunteers (at the festival's office) why more couldn't be explained about our cause (or others..), and she just said it because of the necessary focus on the festival's issues. (Probably they are thinking, too, of some of the more "non-cause" trees that are decorated, and they most likely would not have reason for more information.) I understand the underlying thoughts, but a combined emphasis could reap even more understanding and support for more people!
The important fact, though, is that our involvement in the festival obviously continues the outreach that we wish to express and ask for in memory of our babies. This family's donation is such a wonderful statement to people's willingness to support others.
A SHARE Atlanta mom's, Paula mom to Devin Tyler, thoughts on seeing our tree on December 4th
We went down to the festival of trees this afternoon to see the tree in memory of our babies. It was beautiful. Thanks to all who decorated it. I wish I could have been there to help.
Shannon, SHARE Atlanta mom to Bennett (1/27/04)...
I wanted you to know that Grant and I made it down to see Bennett's ornament hanging on the tree. I have to admit, seeing the tree filled with angels brought tears to my eyes. Not just for Bennett, but for all the angel babies that won't be with us this Christmas.
We huddled around the tree for a long time, taking pictures (which I will forward as soon as I get them back) and looking at each and every ornament. Both the Angel tree topper and skirt were more beautiful than I could imagine! Honestly, I didn't want to leave.
I am sure our presence there will bring more recognition to our program. Shannon

Notes from Parents and others who have visited our tree and pictures of the beautiful tree skirt made by SHARE Atlanta mom, Debbie Badder.




Festival Details:
Ga World Congress center, Exhibit Hall A-1
December 4 - 12
Monday - Saturday, 10 a.m. - 9 p.m. Sundays, 12 noon - 6 p.m.
Door charge and one dollar off if you order early: Adults: $10, Children (ages 2-12): $5, Children under 2: Free Admission, Senior Citizens (65 and over): $5.

Festival of Trees info. on their website.
If you visit the festival, please share your thoughts with us! I will include pictures - soon! Marcia
copyright(c)SHARE Atlanta '97-'07



Graphics on this Site are Copyright