SHARE Atlanta's - "Festival of Trees -
Notes from SHARE Atlanta Parents who have visited our tree.
Dec. 4-12, 2004
"Our Festival Tree..represents the love,
hopes and dreams of the parents.."
Julie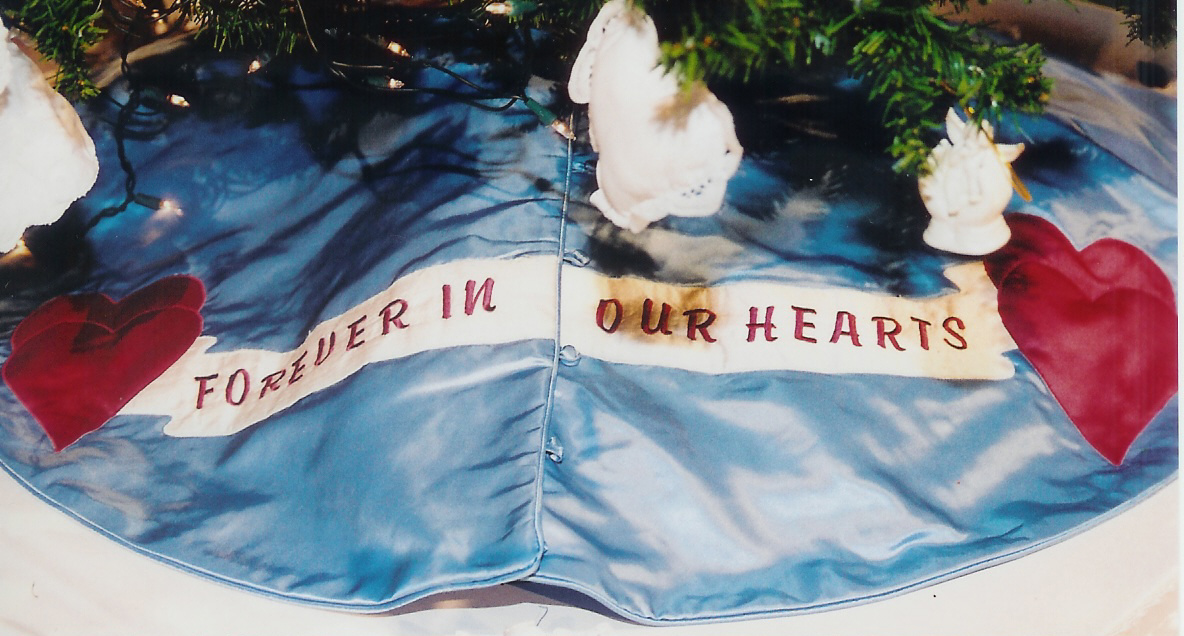 The story of the making of skirt will be ready soon...
I will be addng pictures which will also include some of the tree committee with the tree on the day that it was decorated. I know that for various reason some of you will not be able to make it down to the tree, and I wanted you to be able to share in the beauty of all of the loving ornaments that were placed on this tree in memory of all of our babies.
If you are able to make it down to the tree, I will include your comment on our Festival of Tree's page and some pictures if you will send them to me. I would love some with you and/or your family by the tree! Again, the response has been so positive. We are truly blessed by all who have shared in this wonderful project - to participate in it, to visit it, or to encourage us in doing it!
I just wanted to share with you my families experience at the Festival of Trees. We went on Sat. and this was our first visit ever, and it was beautiful. The tree is just precious.
I was thrilled to see Matthew's ornament right away-and humbled at the same time. All of the sweet little ornaments-and the reason they are there. To all of us who are missing our special "ANGELS" now, I hope we have a peaceful holiday season.
Thanks to all of you who decorated the lovely tree, kept up with the ornaments and made sure the children's names where included on the litany. Seeing our little Matthew's ornament meant a lot to us, and it will make getting through this still difficult holiday season a little easier. Thank you all so much!!!! Lisa, Mike, Shayne & Mandi Brooks
Brandy and I took Bryson and Laynie to the Festival of Trees yesterday and I was in awe. I knew our tree from a distance just by the gorgeous angel on the top. We took lots of pictures and I'll get them to you as soon as possible. I showed Bryson the ornament that was for Jonathan and told him that all these angels were babies that were in heaven. I spent time just looking at each ornament and thinking what each one means to the parents of these beautiful children and how each one was lovingly chosen especially for each of our angels. I have to say that for some reason, I am missing Jonathan more this year.
As I read each name on the litany the tears began to fall. And about that time my nephew came over to where I was sitting and gave me a hug and a kiss and said, "I love you, Aunt Sissy".
As I told a friend of mine recently, I have lost a lot, but I also have so much to be thankful for in my life. It means so much every time I see his name and know that he is remembered along with all of our precious babies. A big thank you to everyone who had a part in making it possible for us to be represented at the Festival. I think we should do it every year. Karen Verner in memory of Jonathan
Our Festival Tree..represents the love, hopes and dreams of the parents..
I went down yesterday and thought the tree looked so beautiful. I had to laugh at the lights that have a mind of their own.... as someone stated its the spirit of our babies adding sparkle to the tree.
Seeing my ornanment of the angel cradling the baby made me think of how Caleb is at peace. Seeing all the ornaments I realized each represents much more than the child lost... represents the love, hopes and dreams of the parents. It is such a special tree, while full of sorrow, full of more love than anyone could fathom.
I was honored to work on the tree in memory of my son. I am looking forward to next year and already have begun to look for that perfect ornament. Julie Franklin in memory of Caleb
12/14/04: Marcia, Each year on or close to Cole's birthday we plan something to do in his memory, something to celebrate his life. This year we chose to take part in a candlelighting at the cemetary he is buried in and on Sunday we attended the Festival of Trees. Yesterday we visited his grave marker with birthday balloons, which Katie picked out(given a choice of 2 different ones).
Cole would have been 4 years old yesterday and this year the grief and sadness has been building for weeks. I have cried multiple times daily for him. Perhaps because I hate that Katie will never have her big brother around to teach her new things, to play and of course, to bother her. Having Katie makes me realize even more what wonderful, joyous times we missed with Cole.
However, having said that...seeing the SHARE Atlanta tree in honor of our babies and seeing Cole's name written made me smile through the tears. He will never be forgotten, his memory is forever alive in our hearts and minds.
It cannot be said enough- thank you for all you do, thank you for your love and dedication, thank you for joining us in keeping Cole's (and all lost babies) memory alive. I don't know how often you are thanked-- never enough, I am sure! You and Share Atlanta helped keep me from drowning in my sea of grief, you made me feel normal in my grief and you helped me see that eventually life would once again, be worth living again. I just wanted you to know that I hold you in the highest esteem and I thank you from the bottom of my heart for all you do. Leah
Marcia's thoughts: It seems that as we remember and recognize with memorial bricks, angel trees, litanies..etc. we let ourselves and the world know that every little life is important. Our babies are a part of "who we are." There are reasons for finding causes for losses - so more babies will survive and fewer parents will have to suffer. Each child is significant. As we realize that, too, we do not have to ever deny any child's presence in our lives - and our children who have died join in their place in our family's tree as do our living children.
A thought that has come up so often is this...for many our living children may "not have been" if their sibling had lived. I can't imagine not having my two "living children" - they are more dear to me than life itself- but I know that we most likely would not have had them if our other three had survived. To me, that is why it is so crucial to make each one of our children "special" by giving him or her their own way/place in our family's history. Remembering and honoring continues the love and brings us peace and hope.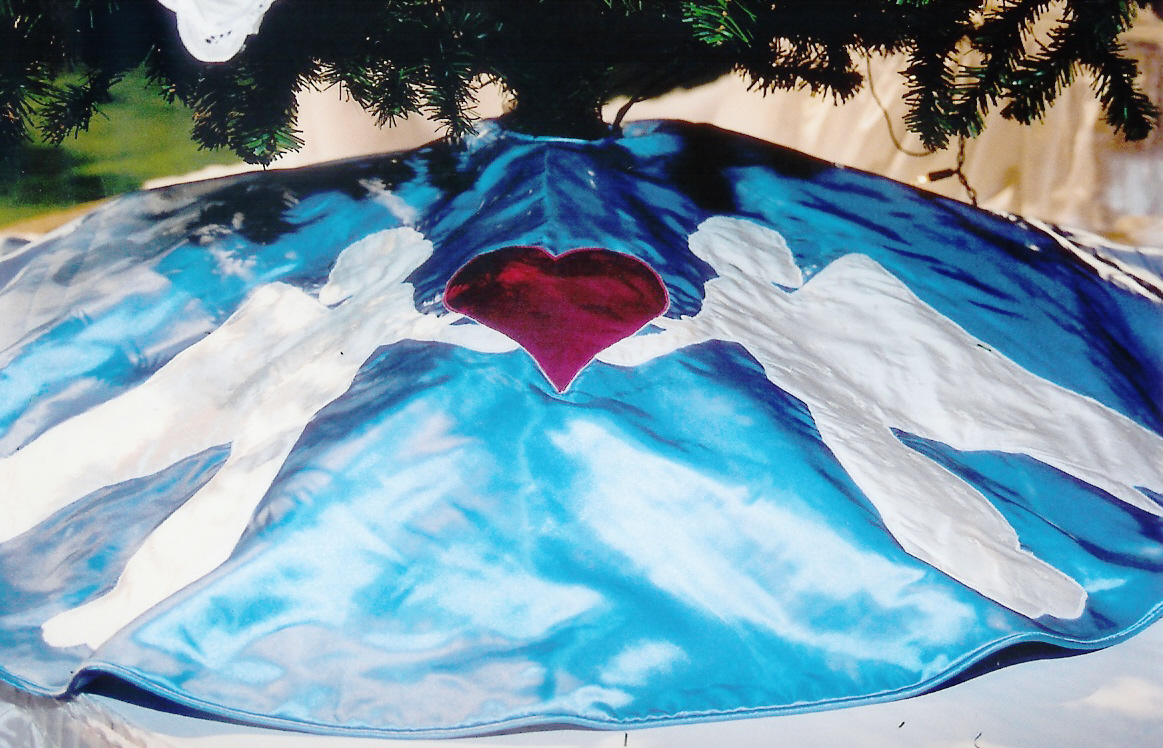 The beautiful tree skirt that Debbie Bader, a SHARE Atlanta mom made.

Return to Festival of Trees Details


copyright(c)SHARE Atlanta '97-'04



Graphics on this Site are Copyright