SHARE Atlanta
SHARE Atlanta's Winter 2012 Updates
Group Meetings~FB~
March for Babies - April 28, 2012~
SA Inservice for Nurses and Social Workers - March 14, 2012 at 9:45 to 12
Advocacy and Awareness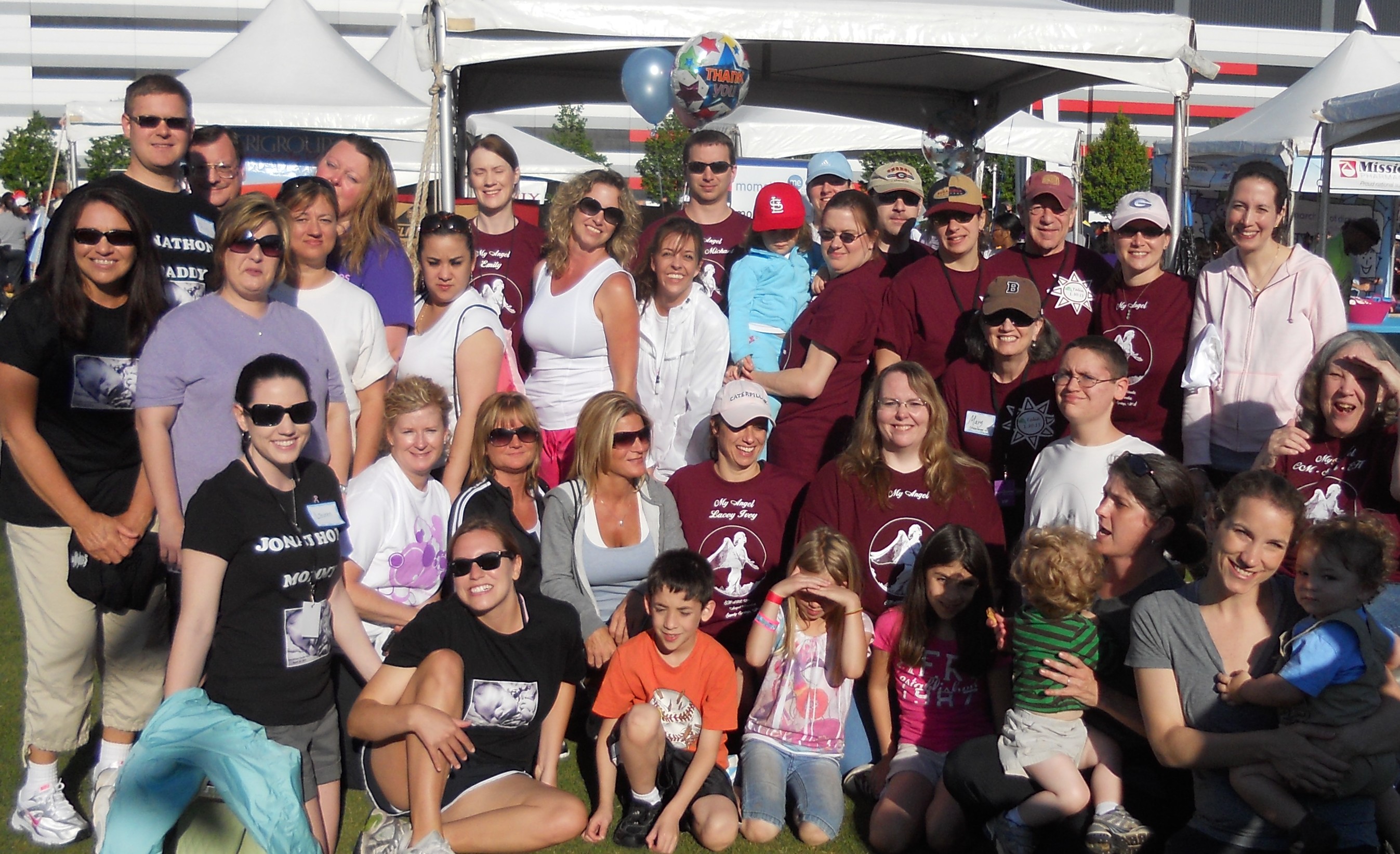 Some of SA's 2011 Team
SA's "Walk to Remember"
Remembering our Precious Babies in Hopes of Healthy Babies

NEWS FLASH: SHARE Atlanta Continues to MARCH for BABIES
As we "Walk to Remember" our Precious Children
Walked since 1998
#1 Downtown Team since 2004


2011 Walk's Success leads to 2012 SHARE Atlanta/MOD's Walk

2012 SHARE Atlanta/MOD's Walk and sign-up!

SA's MODS' pictures on FB

Dear Friends,
Welcome to SA..Here are some links that will tell you more about SA's mission and story...

SA's FB Page FULL of pictures and Information

SA in the NEWS and Ways that "Healing Happens."

Upcoming Meetings:
February's Topic is "Grief and the Emotions of Grief"
February's meeting topic is "Grief and the Emotions of Grief." We will be discussing how - anger, denial, shock, panic, sadness, etc. (all heart controlled emotions and considered the "stages of grief") influence the way we react each day. These emotions can be very intense, shocking, and scary for us.
Grief causes us to be on a roller coaster ride that goes up and down and is very hard to understand. It is in giving ourselves "permission to grieve," experiencing these emotions, and learning how to cope with these emotions that "hope" gradually surfaces. Then healing begins and continues.
The grieving process is one that many don't fully appreciate. As we discuss it, many of our feelings and reactions are validated, and we can learn to cope with them.
Coping Ideas will be shared and, if you would like, you could bring a little Valentine's treat to share with others in the group. At the Women's meeting, everyone will receive our Valentine's memento.
March is "Grief and Your Relationships." We talk about how your grief touches EVERY relationship that you have (from how your respond to yourself to each and everyone you know...and some you don't know!). We will discuss why this is, what this means to us, and how to cope with other's comments (often hurtful when they don't really mean to be) or the lack of support from others. Also, we will share how some of the people around us are supportive and ways to encourage them and to thank them. We will have our brochure for Friends and Family here for you to take to them as well. We will have our March memento - to catch the wind!
April's topic is "Grief and Future Choices." Grief influences every choice we make. We will talk about the reasons behind this and ways to work with this situation. We talk about going to talk with our doctor, a high risk specialist (if our loss was near the middle to end of our pregnancy), an infertility specialist (if we had repeated miscarriage, one miscarriage, early loss before 14 weeks) and about discussing a birth plan with our OB. Finding a doctor that connects with us on EVERY level for our subsequent pregnancy is critical. Often it means changing doctors or including a specialist that knows the issues inside and out - that might touch us.
We talk with our doctors BEFORE we get pregnant again. Then, we are not caught up in the hormones and emotions of being pregnant. We establish our baseline for what to expect next time so we can know that we are doing all we can. Often, even when our primary care doctor has said there is nothing to do, a specialist (who has seen many, many similar situations...unlike a typical OB) can often suggest prevention and intervention before we ever become pregnant as well as ideas for during pregnancy. Then, we can feel more reassured as we approach the next part of our journey.

Directions and times to our meetings (Topics are the same for each meeting. The men/women meeting is RSVP only.

Grief process - supportive thoughts and stories from SA members...

JoAnn's Diary - JoAnn's emails to me during that first year or so after her loss..

SHARE Atlanta's March of Dime's Campaign as we "Walk to Remember Our Babies" on Sat. April 28, 2012
On January 31, Coretta Monroe, Cindy Ivey, our Team Captain, and I attended the annual March of Dimes' Kickoff Luncheon. We had a wonderful lunch and visited with our March of Dimes friends both on the staff and those we have gotten to know who walk regularly. The hour is full of stories that show how March of Dimes' makes a difference for families. They provide research and answeres for birth defects, prematurity, and healthy newborns. Their support may help find answers for stillbirths and miscarriage as they continue to study progesterone use and other important issues that will promote healthy pregnancies. See our FB page for pictures of our time at the luncheon.
For many of our members, this is an activity where they can take their grief and do something "in action." Friends and family often are anxious to support our families in their desire to do something meaningful in memory of our babies. Most know about the MODS. We find this a wonderful outreach that touches our families their friends and family..and families to be. The hope for healthy babies and happy families mean much to SA members.
The MODs has made this a very easy activity to be part of. Our SHARE Atlanta Team is #562 and you can join us downtown or anywheres and still raise money for SA. (You sign up to walk for SA downtown..turn in your donations to our team captain Cindy Ivey but walk ANYWHERE you wish.
Doing this can give you and others hope for the future. It is an important part of SHARE Atlanta's advocacy and awareness program. We want others to understand our issues and needs so we will have more community support, and walking and raising a significant fund does this. MODS has opened the door for SA to be on TV, radio and have a presence AT the walk each year. The walk is April th at our downtown walk site, and because of our fundraising efforts last year - SHARE Atlanta has its own tent once again!
Please know that MODs' research and advocacy touches on many of the issues that face our Pregnancy and Newborn Loss Community. They are one of the few organizations that listen to our concerns and are searching for the answers. More details on our site and theirs!
If you can't walk for any reason, but wish to sponsor our team or someone on our team..that would be GREAT!!
Join SA and our March for Babies 2012!
You can walk ANYWHERES in the USA and/or contribute to SA's TEAM.
For more information:

Email Cindy Ivey - our awesome TEAM leader!

2011 Walk's Success leads to 2012 SHARE Atlanta/MOD's Walk
Let's keep our support out there for MODs and continue to show that SA believes in what they are doing!

2012 SHARE Atlanta/MOD's Walk and sign-up or sponsor the team or someone on our team!

Inservices - "The Circle of Healing" by Marcia McGinnis..given by SA:
During our inservices, we share our SA program, our thoughts on families and grief, and offer support and information to nurses, social workers, and chaplains who work with high risk patients. Many of these professionals will be faced with situations such as ours. We have done this inservice twice annually since 2008.
I have developed a power point with coordinating booklets. We discuss what to say and not to say and we re-enforce positive interaction between parents and professionals.
We have very, very positive evaluations after each one of our inservice presentations. We have been doing inservices since 1985! They are an healing activity for those who join us because they give us a place to bring our experience full circle in an effort to help future families. Our experiences tied with what we have learned about grief in SA's grief groups, provide an incredible platform for open discussion with those people who we know will be THE initial responders/supporters for future families. It is a true outreach of love in memory of our children. Please let me know if you can join us.

APNEC/SA's "The Circle of Healing" March 14, 2012 at 9:45 for 2 hours: SHARE Atlanta and Marcia McGinnis presents her inservice program "The Circle of Healing."

Inservices for Awareness and Advocacy..Marcia McGinnis' "The Circle of Healing" provides information for nurses, social workers, chaplains, student nurses, Stephen Ministry, etc.

Email Marcia if you would like to join us.

We support you:
Whatever you choose, know that we at SHARE Atlanta support you. We wish that we could call each one of you and personally talk with you. This email/update is my/ our effort to connect with you and let you know we care very much about you. If you will join me/us at our groups, events, or on FB, we can see each other and chat. Usually, you will meet others who wish to talk with you. Many of our members become forever friends! We are here as you need us and are thinking of you.
Thank You....
I want to thank those who remember SHARE Atlanta either by offering to volunteer with us or by sending us a donation in memory of your little one. We thank you for your supportive outreach. YOUR SUPPORT IS what keeps SA here for subsequent bereaved parents.

In closing...
I hope to see you on FB, at our groups, and/or at some of our activities. But, if you are not ready to join us, know that we understand. We offer these as "options" to help you to heal. We have had members join us anywhere from one week to many years after their loss. Healing often comes in stages and over time healing happens.
We are blessed to have such wonderful and willing members that do pull together to make these happen. Many return on anniversaries, special occasions, or as support for the more newly bereaved. Each person is important and we do the best we can to send out support to you. Our group could not be a "group" without its members coming together...thank you!
Take care,
Marcia
The love stays...forever in our hearts.
Since 1984
Website since 1997
FaceBook since 2008

SA's Angel Garden since 2001 - A Video
In 2009 SA mom, Reece Ritter, created this beautiful video that brings together visually the "story" of SA's Angel and Memorial Brick Garden. SA's "Walk to Remember" - We will walk in April with the March for Babies in memory of our precious babies.

Archived Online Newsletters

Archived SA Updates
~~~~~~~~~~~~~~~~~~~~~~~~~~~~~~~~

copyright(c)SHARE Atlanta '97-'2012



Graphics on this Site are Copyright