SHARE Atlanta
SHARE Atlanta's November/December 2012 Updates

Candlelighting Service~Dec. 5 from 7 to 9pm
Support for the Holidays and Healing

Please note especially: Women's Candlelighting Date has changed to December 5th
NO November Women's Meeting.
Men and Women's Meeting...CHANGE: Tues. Nov. 27, 2012 - NONE in Dec.; Tues. Jan. 8, 2013
Oct. Pregnancy and Infant Loss Grief Support - A Review of SA's Activities
SA's Candlelighting...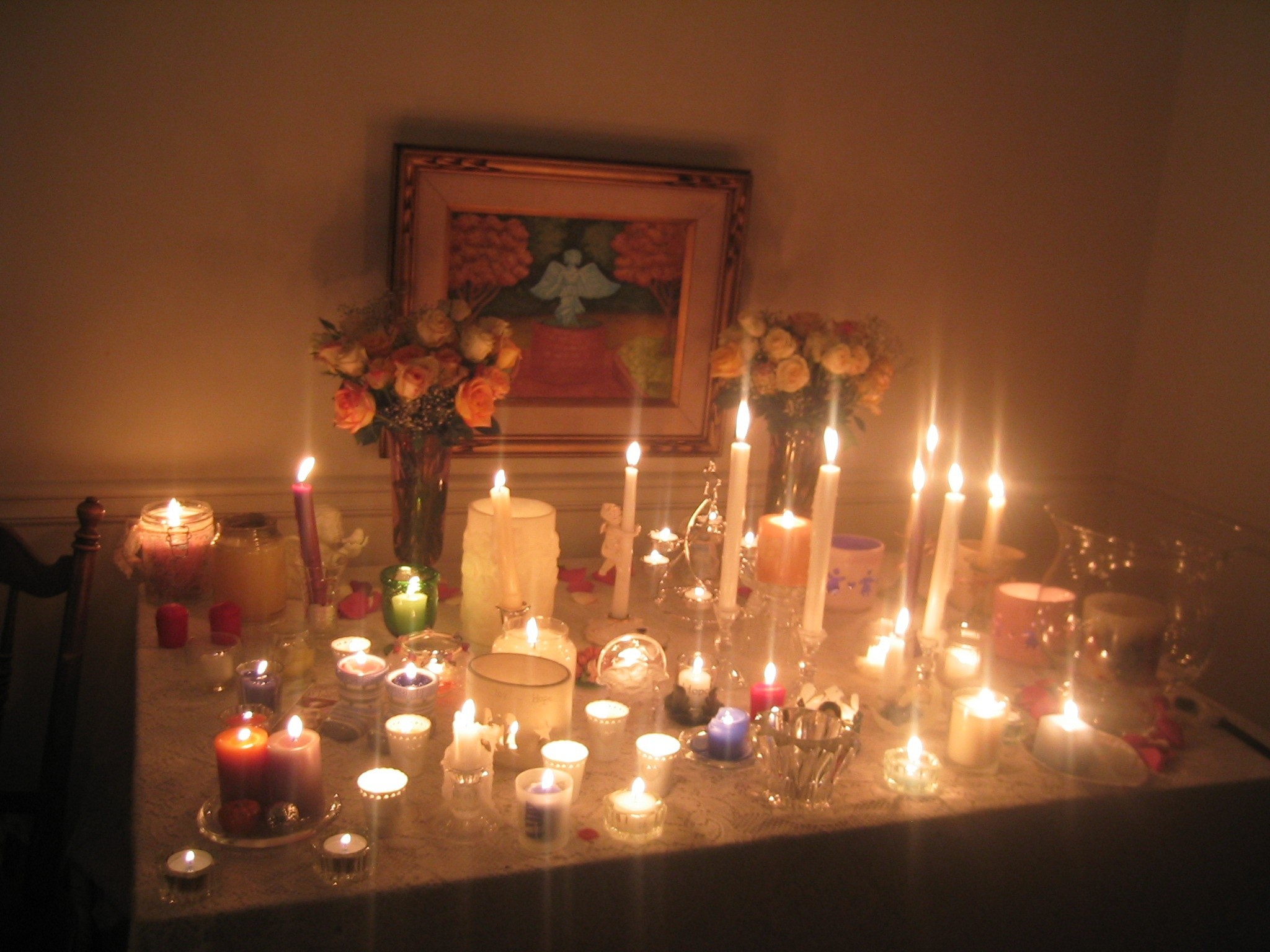 Candle light is bright with hope, love, and peace
and memories of our special babies...
As we gather together..healing gradually happens.

Dear All,
As the holidays draw near, there are always difficult times and needs that surface. We hope that some of our information and outreach will help to ease you through these days. We want to extend an invitation to you to join us at our Women's Candlelighting Service on December 5 at 7pm at the usual Women's meeting. During this special evening, we remember and honor our precious babies as we support one another. Please consider bringing some boxes of kleenex for our "Hugs from Hunter" "Outreach for Healing." (see below) We have supportive coping ideas on our website and FB page to help you explore differnt healing options. You are not alone as you travel this path of grief toward gradual healing.
Women's Candlelighting

PDF of SHARE Atlanta's Women's Candlelighting - Scroll down the pdf (12.5.12 - 7pm)

A SHARE Atlanta Candlelighting in review...
SHARE Atlanta's "Hugs from Hunter" (Kleenex for grieving families) Outreach for Healing Project

"Hugs From Hunter" by Amy Guzowski We welcome Amy's "Hugs from Hunter" to SA's 'Outreach for Healing" program. We are no longer creating a memorial tree each year. Click on the hearts to find out about this meaningful outreach.

Support for Coping with the Holidays
The Holidays are never easy. In October our groups talked about how to cope with these days. We also had little booklets on this topic. Please visit our website for more support. Doing what is comfortable for you is very important. Family members and friends may not understand all your needs. It is important to listen to your heart and be gentle with yourself during this time. Join us on our FB page, too, as we support each other through these days.
Holiday Support from SHARE Atlanta:
1.

Anniversaries, Due Dates, and Holidays
2.

Coping Ideas for grieving and healing parents
3.

SA's FB page (There are many ideas and pictures on our FB page. Scroll through our photos to find links and pictures. Members have contributed ideas for support all along the way.)
4.

Meeting Info., Locations, and Times: CHANGE: Men and Women's Group - Nov. 27, 2012; NO meeting in Dec.; and Jan. 8, 2013. NO Women's Meeting on Third Wed. of Dec. but Candlelighting on Dec. 5 at 7pm

Celebrating Oct.- Pregnancy and Infant Loss Awareness Month Review:
SA's "Circle of Healing" Workshop by Marcia McGinnis...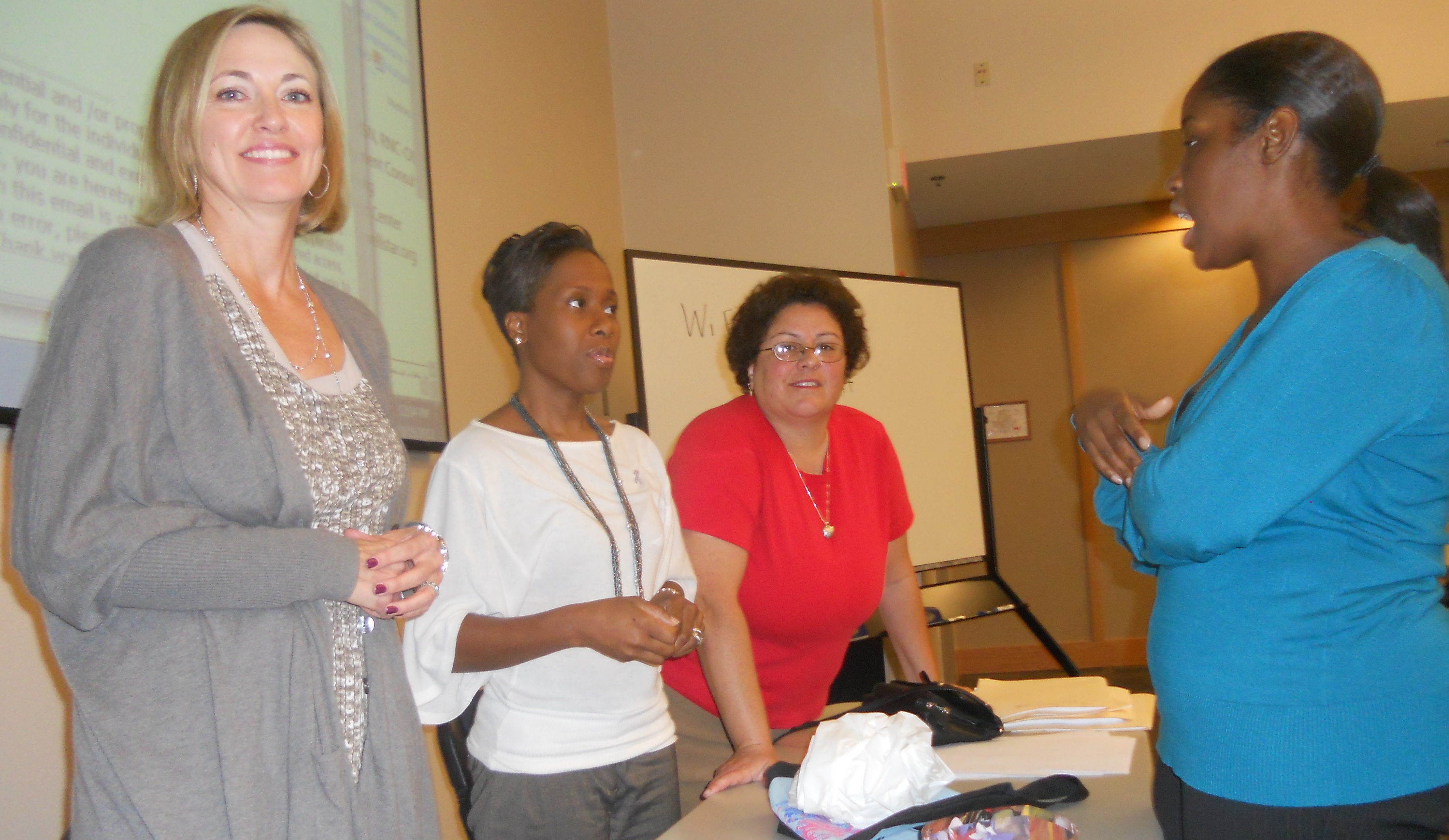 SA moms, Kelly Mishkoff, Tanya Mitchell Cobb, and Alyse Jones joined Marcia
APNEC on Oct. 15
SHARE Atlanta's 10th APNEC Inservice: A huge success. Piedmont Newman, Dekalb Medical, Cobb, Forsyth, Atlanta Medical, Rockdale, Wellstar group, Piedmont, and others. Piedmont Newman had the most people (YEA!!) so they received a huge bag of SA's baby blanket packets and about 20 boxes of "Hugs from Hunter" kleenex. They were thrilled!!! Others received these on a smaller level with our 6 "door prizes." We had a wonderful exchange of information..as to "What to say/Not to say" to a newly bereaved parent; ways to help the parent continue to parent their child; as well as our moms sharing their stories and thoughts. One nurse wrote on our evaluation form "that she would now know better what to do when a mom had a stillborn baby"...with a big "thank you" by her note. Several wanted to make sure that our materials were IN their hospital..for further compassionate care. THANK YOU Kelly, Tanya, and Alyse for helping to make a difference..during October Pregnancy and Infant Loss Awareness month. (We hold inservices throughout the year...

Details about SA's Inservice Workshop "Circle of Healing"

Marcia presents mini-inservice for
Dunwoody Women's Club Members...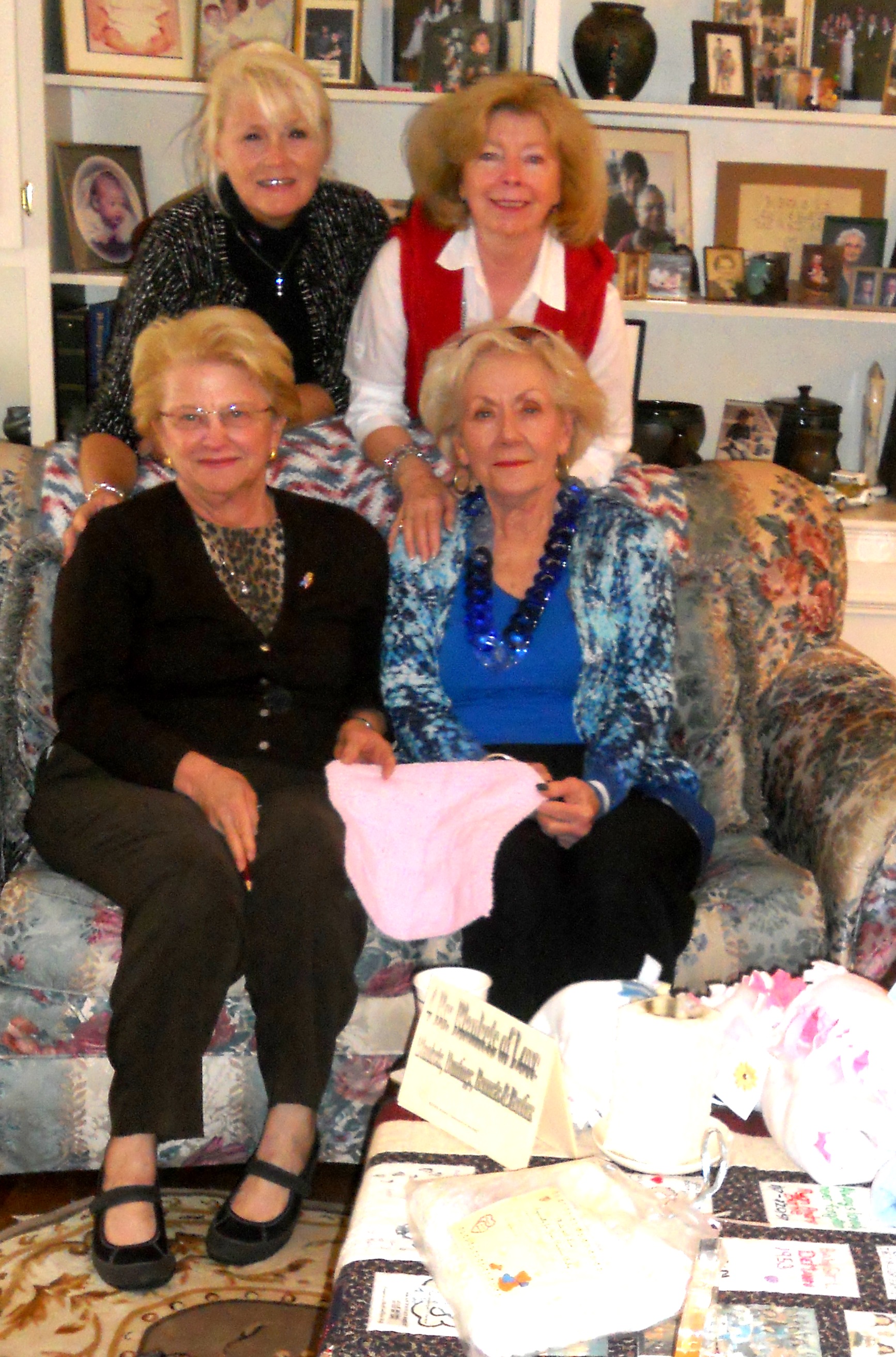 "Thank you Marcia for wonderful presentation to DWC this morning. Your are an inspiration to us all, and I look forward to having you speak to our the entire club next year." Sandra Dubois, DWC

Sandra Dubois is a friend of mine. She had seen some of the information about SA and Oct. Pregnancy and Infant Loss Awareness on my FB page. She called me and asked about it. Then, she asked if I could give a brief presentation to her small group from Dunwoody Women's Club. Of course, I said, yes. EVERY group that I have held for SA has its own gifts. This was no different. As they came, they brought their own stories and thoughts. They were touched by Blair's video of her precious baby, James. They were interested in our "Outreach for Healing" programs. After pictures and hugs, I was asked how could they help us. They are going to WALK for SA in our MODS' campaign!!! They want to make blankets! The donation that Sandra handed me will be used for mementos in our meetings. THANK YOU DWC for helping SA make a difference for the Pregnancy and Newborn Loss Community. It means so much to me. Marci McGinnis 10.12

SA's Angel Arms filled with healing pink roses...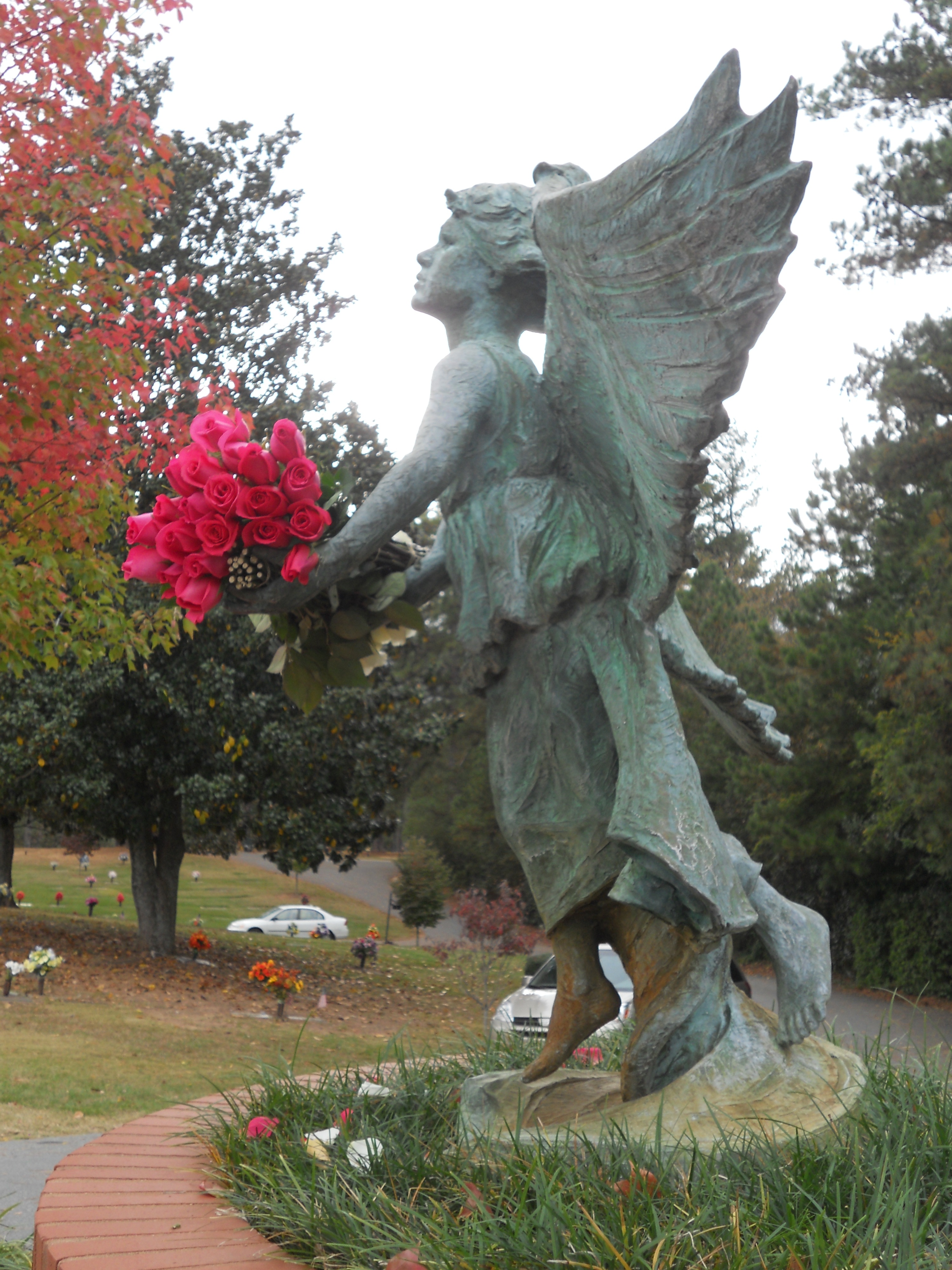 2012 Angel Garden Memorial Service: "Forever in our Hearts"
Hearts, Rose Petals, Music, Poems, Bubbles..

A link to the pdf of SHARE Atlanta's written program for Angel Garden Memorial Service 2012.

Pictures by Percy and Kimberly Keyes with captions by them and Marcia

Pictures by Marcia McGinnis and Coretta Monroe with captions by Marcia McGinnis
My thoughts about the 2012 Angel Garden Memorial Service: Many loving images come to mind, as I reflect on Oct. 28's beautiful memorial service. There were many loving and special people and thoughts all in one "safe haven" that was created in memory of our precious babies. It was a blessing to be able to come together with the strength and courage to honor our children while reaching out to others who also had the courage and strength to attend.
We all know grieving is hard work. We know that the "path of what will be" is never easy. But, we have come to understand what Pam Slayback's poem means: "together we can make it through to the other side." Having some of our older children participate was one validation of that. There, also, was appreciation of healing for several who have made that path of "what will be" a loving and significant one without subsequent children. There are many options for healing. The beauty of it all is that in that diversity is the very framework of life.
A heartfelt "thank you" to each of you for sharing and caring. This was seen in many different ways: from the kind welcome at our Guest Table; to every SA parent written poem read with loving care; Amon's enchanting music; a family lighting our memorial candle; the angel's roses; another family of sons helping to place the roses; and, of course..our beautiful babies' litany with handmade Heart Mementos. All uplifted, as we closed, with the graceful floating of balloons and bubbles towards the heavens!
All we do in SA is in memory of our babies. We wish to heal and to help others heal (a Mutual Support Group). That is all we really need to know and to feel. But, it is truly validating and uplifting to share meaningful stories and events along our way. Another lasting memory - all the hugs of support and the many loving connections that I witnessed on the 28th. These are the essence of SHARE Atlanta.
THANK YOUS: First of all, I want to thank Joe and Polly Keen for their ongoing loving care and dedication of the SHARE Atlanta Angel Garden. They spend many hours keeping it trimmed, watered, and cleaned up..so we can enjoy the beauty. They also are the twosome who place all of the memorial bricks so we can honor our special children. Then, to Jennifer Greer who takes and makes all the brick orders. Reece Ritter gets the bricks and brings them to the Keen's home. Then, we saw the names of the members who wrote and/or read the poems and fulfilled various other meaningful parts of our program in our written program. I want to share the names of those who worked "behind the scene" to make the program successful. They include: Kathy Powell - Printed Newsletter and PR; Ana Cavazos-Wright - Roses and rose petals; Karen Verner and Coretta Monroe - balloons and clean up; Tanya Mitchell Cobb - Guest Table; Nicole Kirby created our beautiful litany and tied the ribbons on our bubbles (Her family also helped with set-up.) Again, a huge "thank you" for working together to make the SHARE Atlanta memorial service a significant and special reality.

Each time as we come together ~

We hope that these special services, activities such as our "Hugs from Hunter," "5B's Outreach, March for Babies, and our meetings - all in memory of all of our babies, help to bring you hope, peace and continued healing. As we share together, we know that the love we feel for our children will be forever in our hearts.

Take care,

Marcia

The love stays...forever in our hearts.

http://www.shareatlanta.org/legacy/main.htm



copyright(c)SHARE Atlanta '97-'13



Graphics and "Music Box by Eclipse" on this Site are Copyright...click on owl!