SHARE Atlanta
2008's MODS' TEAM - Top Downtown Family Team - 5th Year in a Row!!
We MARCH to "Remember Our Babies"

THANK YOU TEAM CAPTAIN, CINDY IVEY!!

THANK YOU, MARCHERS and SPONSORS!!!



MORE Marchers & More Sponsors = MORE Donations =
Downtown Chairman's Club TENT = Supporting Bereaved Parents During the March!
More Support for MODS, too!
You can march ANYWHERE & still walk for SHARE Atlanta


SA's MODS' Chairmen's TENT
(Annually there are 10 MODS' Downtown Chairmen's Tents.)
We have to be Top Family Team for this TENT.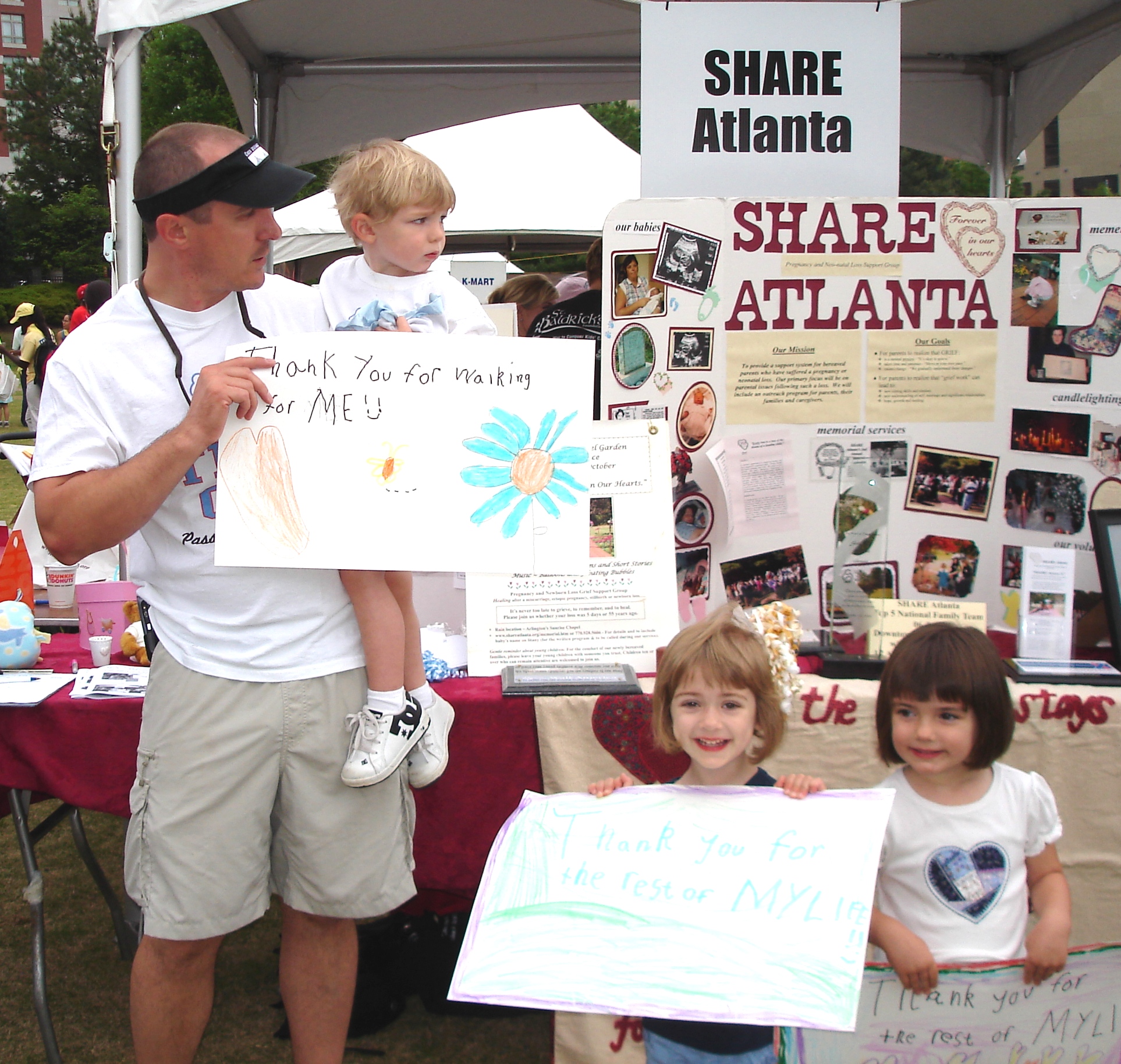 Why We Walk..For our children..
Several of our SA 2008 "subsequent" children
carried signs saying
"Thank you for walking for 'Me'."
Lyle Gore with his son, Roan,
and Katherine and Margaret (preemies) Beltrami.

5 Different PDF Mini-Newsletters Telling SHARE Atlanta's Story!!
Click on the Hearts

A Pictorial Pdf about 2008's SA March - Top Walker: Aiden's Team (Tammy and Chris Campbell's Team)!!!
Plus Receiving our 3rd National Award and meeting Katelyn Hall and her parents, MODS 2009 Ambassador Family in Dallas TX in Oct. 2008

SA's 2007 "Walk to Remember" Walk America Day with Honors! Top Walker: Elise Beltrami with supporters John (her husband) and twin daughters, Katherine and Margaret!!!

SA's 2007 Parents with Preemies on Walk America Day!

SA 2007 Wins 5th out of 12,000 Family Teams Nationally!

2006 Team with Top Walker: Tamara Partis!! Ushered in with 2005's Top Walker: LaWanda Lee!!!!
Team "Thank You" to our sponsors, from Cindy Ivey, with Totals from the last few years
THANKS to "all of you", our team SHARE Atlanta raised $35,277.00 for the March of Dimes march for babies 2008!! Special people like you, who donate to march for babies, help the March of Dimes fight a national crisis – premature birth. Right now, premature birth touches half a million babies and their families every year. Babies born too soon are more likely to die, or have lifelong disabilities. 120,000 babies are born with serious birth defects every year.
Every baby deserves someone in their corner – that someone is Y-O-U! Thank you all for donating to save our babies – those born healthy and those that need help to survive and thrive!
Our fund-raising GRAND total, including the '04 ($17,000.00), '05 ($13174.00), '06 ($33,437.71), '07 ($38,822.00) & '08 ($35,277.00) March of Dimes march for babies, is $137,710.71 – WOW!!! We thank you from the bottom of our hearts for your support. Together, we ARE making a difference!
Love,
SHARE Atlanta Team Members


SHARE Atlanta's March of Dimes Menu - More information about our past walks"


copyright(c)SHARE Atlanta '97-08



Graphics on this Site are Copyright