SHARE Atlanta
SHARE Atlanta's October and November Updates 2009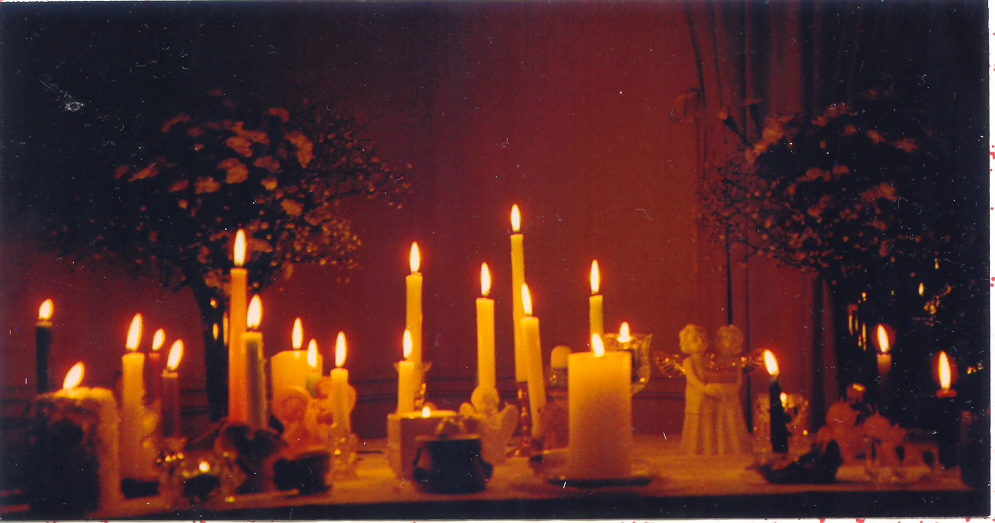 SHARE Atlanta's Annual Women's Group Candlelighting Service

Dear All,
SHARE Atlanta (SA) has several activities on its calendar for the next few months. Along with our monthly meetings and ongoing forums, we have SA:
1. Inservice at Wellstar Center - for nurses and social workers of area hospitals
2. Annual Women's Candlelighting service where we will decorate our yearly memorial tree
3. 5Bs.. blankets, buntings, bonnets, booties and bracelets Packets will be going out to local hospitals
4. Volunteer Gathering
Important Note: We will NOT be holding our Angel Garden Memorial Service this year.
Annual Memorial Services:
For the first time since 1995, our annual memorial service at the SHARE Atlanta Angel Garden will not be held this year.
Our annual Women's Candlelighting will be held as usual on the 3rd Wed. of November (the 18th this year). Please bring a candle(s) to light in memory of your baby(s). We are not asking everyone to bring food this year, but if you would like to help with providing some food, please email me. We will be decorating our memorial tree for a local hospital during the candlelighting. If you would like to include an ornament in memory of your baby for our tree, please bring it on that day or mail it to my home. As always, the theme will be Forever in our Hearts. You may include your baby's name and dates on the ornament. We always suggest that you consider making or purchasing another similar ornament for you to keep in memory of your baby. This candlelighting is a very special time for our SA moms and their women friends or family members. We come together to remember, to honor and to share our love for our wee ones. We hope you will join us.

Link that includes information about our Women's Candlelighting service.
Inservice:
After my September note, we had 6 parents express interest in joining our inservice. During this inservice, we share our SA program, our thoughts on families and grief, and offer support and information to nurses, social workers, and chaplains who work with high risk patients. Many of these professionals will be faced with situations such as ours. We have done this inservice twice annually for 2 1/2 years now. I have developed a power point with coordinating booklets. We discuss what to say and not to say and we re-enforce positive interaction between parents and professionals. I am pleased that Adrianne Verbanac, Mindy Simmons, Nikecia Ingram and Rodericka Parks will be joining me.
We have very, very positive evaluations after each one of our inservice presentations. It is an healing activity for those who join us because it gives us a place to bring our experience full circle in an effort to help future families. Our experiences tied with what we have learned about grief in SA's grief groups, provide an incredible platform for open discussion with those people who we know will be THE initial responders/supporters for future families. It is a true outreach of love in memory of our children.
5B's Packets:
We also had several parents wish to help with the distribution of our gift blankets. Alyse Jones, Emily Janke, Diane Overton, and Patty Adair will be joining us. We still need a few more willing hands. We have over 300 packets to give out!!! Families and friends have been sending them to us. This summer I developed a 5Bs' brochure for us to give to hospital staff (we will be handing this out at our inservice 10.13). It suggests better ways to make a fuller use of our packets. From talking with parents, I realized that, sadly, our gift items aren't always given to parents so that they can use them while they are with their baby. Or sometimes, items are washed just before they are given to parents as they depart the hospital. In talking with nurses, we find that some don't fully understand the importance of these items. We continue our outreach to the caring professionals because we know that they do wish to find more positive ways to support parents.
October's meeting topic is the Significance of You and Your Baby.
The Men and Women's group meets the first Friday of each month and the Women's meeting is the third Wed. of the month. We will be talking about the special relationship we have with our precious baby. Each of our meetings has a booklet of information to further explore our topic of the evening. During our Oct. meeting, we have a designated time for sharing any mementos, our memory books, and/or memory that members wish to bring to our group. If you have experienced a miscarriage, we hope you will join us. We will touch on ways to keep these tiny ones close to us...even when so many around us wish for us to move along. Healing does happen. We explore ways for it to happen. It is always a very comforting and healing time together.
And more...
I will be sending out other notes with more information about our SA business meeting and some of our members who have done some very special outreaches in memory of their babies during the last year or so.
If you have any questions or thoughts, please email me or share it with one of our volunteers. Tammy White is our Men and Women's group facilitator, Adrianne Verbanac is our forum facilitator, and we have 10 phone volunteers with Leah Blurton being our coordinator for that group. We do need new phone volunteers so some of our group can have a break from the committee. If you wish to consider being part of that outreach, please let me know.
Our group IS our families. We reach out to one another to support the healing process. Please help us continue our outreach by participating in our program. All of the activities that we include in SA are in hopes of healing and are carried out in memory and in honor of our special babies.
Take care,
Marcia
The love stays..forever in our hearts.
since 1984
Helpful SHARE Atlanta Links:

Directions and times to our meetings (Topics are the same for each meeting...the men/women meetings are RSVP. We also have an online subsequent pregnancy group for those who are pregnant once again.)

Our forum is now being monitored by: Adrianne. Our SIDS forum is monitored by Carla.

Grief process - supportive thoughts and stories from SA members.

JoAnn's Diary - JoAnn's emails to me during that first year or so after her loss..

Ideas for parents

copyright(c)SHARE Atlanta '97-'09



Graphics on this Site are Copyright