SHARE Atlanta
SHARE Atlanta's April-July 2012 Updates
Group Meetings~FB~
March for Babies - April 28, 2012~
Mother and Father's Day Support
Advocacy and Awareness
SA THANKS ALL who WALKED or SPONSORED our TEAM!!!
THANK YOU CINDY IVEY, TEAM CAPTAiN!!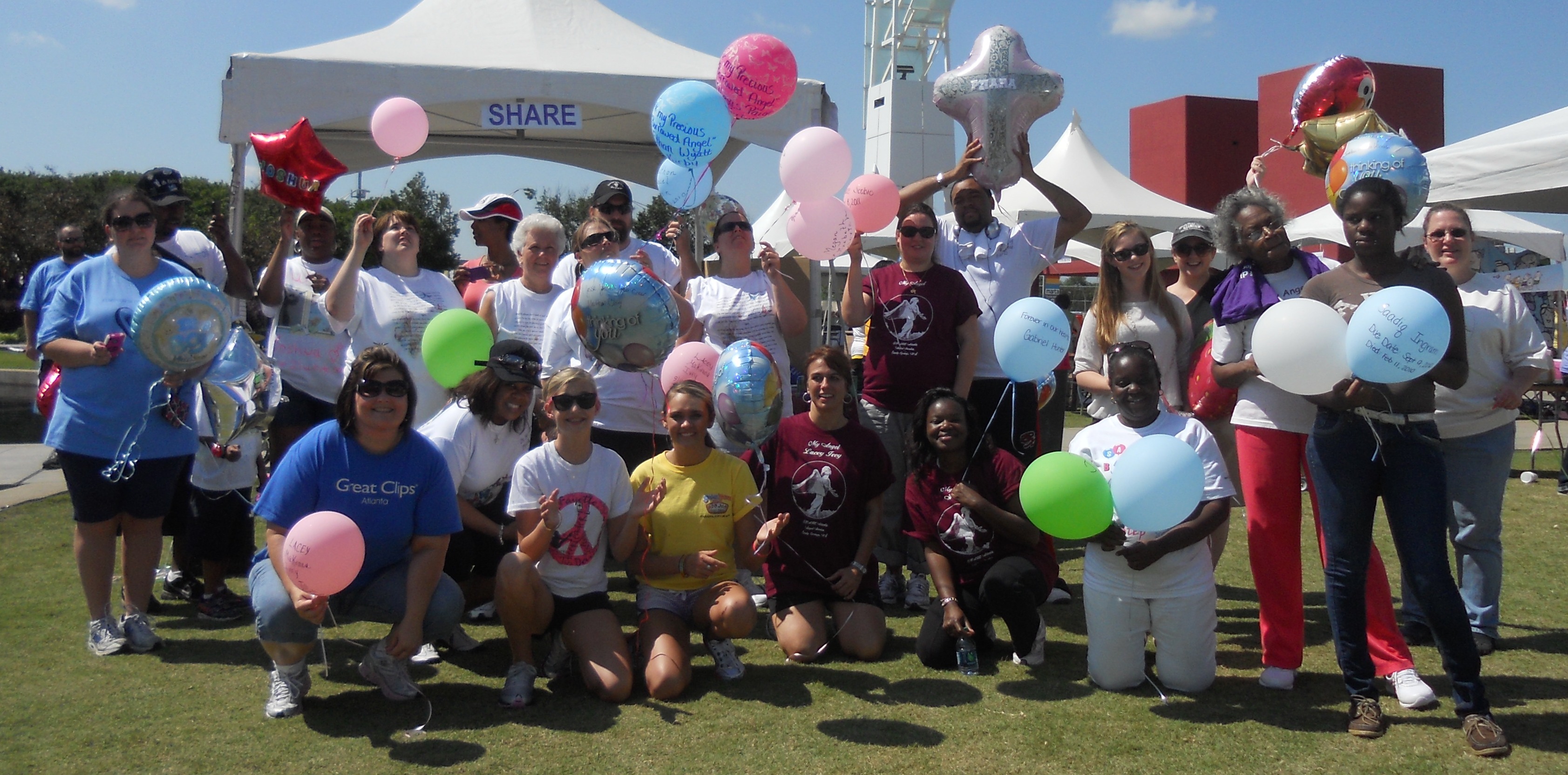 Some of SA's 2012 Team
SA's "Walk to Remember"-Balloon Release
Remembering our Precious Babies in Hopes of Healthy Babies

NEWS FLASH: SHARE Atlanta Raises over $20,000. for MARCH for BABIES
As we "Walk to Remember" our Precious Children
Walked since 1998
#1 Downtown Team since 2004


2012 SA's MODS' pictures on FB

2012 SHARE Atlanta/MOD's #1Team Page..Donations accepted through May

Past SA's MODS' pictures on FB

Dear All,
This has been a busy and productive two months. We had a very special meeting in April followed by a MEANINGFUL and AWESOME "Walk to Remember" with our annual March for Babies Campaign. Our next Women's meeting, "The Significance of you and your baby" is this coming Wed., May 16 at 7 pm.
SA THANKS ALL who WALKED or SPONSORED our TEAM!!! Again, donations will be accepted through May. We are the only Family Team to earn our own TENT through our donation level. Because we have our own tent, we can tie our balloons in memory of our babies on to our TENT AND meet parents who need our support DURING the walk. We also have a wonderful gathering of our members during the walk. This year we released our balloons at the end of the walk. The TENT is a unique gift that we achieve each year. We also have been on People to People and radio public service announcement because of our donation level. So, keep those important dollars..all for healthy babies..in memory of our babies..coming!!

Groups:

Locations and times

Women's Group - 3rd Wednesday of each month - 7 pm

Men and Women's Group - 1st Tuesday, by RSVP, each month - 7:30 pm

Topics for May, June, and July:

"The Significance of You and Your Baby" and Mother's Day

We share our mementos, pictures and poems/thoughts about our special babies. Please bring them with you as you join us. We will also be discussing this important relationship and ways to cope with our feelings and intense pain around the loss of our precious baby. If sharing your mementos is not something you are ready to do (or if you don't have any or many) that is fine, too. We know that each parent deals with their pain differently and what you are comfortable with is important. Come and know that where ever you are is right for you. We will have special Mother's Day mementos and poems. We will have booklets for Dad.

"Grief and Secondary Losses" - June's Topic.

Our primary loss is our precious baby...secondary losses are feelings and concepts like the loss of: innocence, hope, communication with others, self-worth, role of parenting, and a host of others. We will share what these are, how they influence our grief pattern and ways to cope with them. Grief is "doable" as we learn how to better cope. Consider joining us - no manner where along your path of healing you are. We gather insight from those who are at different places on the path.

"Grief and Your Emotions" - July's Topic.

We will talk about how grief influences our emotions (sadness, anger, guilt, fear, etc.) and ways to identify our feelings and cope with them. We are on the "yo-yo" pattern of grief from the moment we learn about the loss of our child. These emotions tied with the secondary losses are what carry us down the path. Learning to understand what is happening *to* us and how to cope with these feelings and reactions makes grief "doable." We each feel that our pain and subsequent grief is unique to us. In our pain, we often believe that what we are experiencing no one else *really* could share. Our reality is different than others who are grieving. Society would like for us to believe this (and we are a part of that society). Yes, there are parts of each person's walk that are unique, but there is much common ground...more than most understand. As we come to appreciate our new reality and our new *normal*, we don't feel so alone and afraid. Healing gradually happens. While healing is an individual effort, joining together helps us sort through how we might travel our path.

Stillbirth Research with Emory Graduate Student along with Dr. Hogue:

Marcia has been involved in providing information and background about stillbirth based on her 25 plus years of experience in the Pregnancy and Newborn Loss Community. She has provided her Inservice Booklets, "The Circle of Healing" as well as talking with the researchers. Several of our SA parents who have experienced a stillbirth have been interviewed. Marcia will be part of the Stillbirth Expert Panel at Emory discussing this topic in August.

March for Babies 2012

2012 SA's MODS' pictures on FB.
Marcia and Cindy will, once again, be having a "thank you" lunch with Taisia and James, from the MODS, in August. I am sure we will discuss more ideas for supporting those who have lost their precious babies. They really liked our balloon release that we did this year and have said they might do one next year!
We really appreciate them listening to our ideas through the years and supporting our mission. We feel as though our group has contributed to the deeper understanding of our issues in the Pregnancy and Newborn Loss Community. Possible outcomes of these discussions were at the walk this year. There was a moment to remember our precious babies during the opening ceremony and a butterfly floating pond in memory of those little ones gone too soon. We are pleased to be supporting the MODS and THEIR mission of seeing more babies born healthy.

Mother's Day and Father's Day
Mother's Day and Father's Day are very difficult time for our parents. Mothers and Fathers, please remember that you are a very special mommy and daddy to very dear babies. There are ideas for approaching these days on our website and coming to the forum to share is always an option. We shared some of these options last month at our meeting. Our Women's meeting will have a special time and mementos for Mother's Day as well as some materials for Father's Day. Tammy always remembers the Dads at our Men and Women's Group in June. That group meets the first Friday of each month. Also, keep these links in mind:

Mother's Day Link

SA's Mother's Day Celebration 2008 Mini-Newsletter. Let's plan another celebration for '10! Let Marcia know if you are interested.

Coping Suggestions...Mementos, Ideas, etc. (Kim's bracelets and Dana's Portraits are a special ways to honor Mother's Day.)

SA's 5Bs: Blankets, Buntings, Bonnets, Bracelets and Booties 11.08 Mini-Newsletter- Consider making some items in memory of your baby for Mother's Day. Bring them to a meeting or to Marcia's home to make sure they have SA information in them and we will distribute them to hospitals.

"Healing & Making Our Child's Presence Meaningful"

Father's Grief Menu and Father's Day Pages


Memorial bricks: Several parents have expressed interest in purchasing these for Mother and Father's Day. IF we have a large enough order, we will make this happen before October. SO, go to this link and order: If we do not, we will hold the order until Aug. 15, and send it as we always do. The bricks are placed before Thanksgiving.
Thank you to all who have helped SA in the many ways that are possible. WE are WHO we are because of those who volunteer and who support us.

SHARE Atlanta IS those parents who volunteer with us
Be sure to visit us on FB, there are lots of pictures and updated information on our page.
Take care,
Marcia
The love stays..forever in our hearts.
Since 1984
Website since 1997..We were one of the first sites to have a chat line and to have email exchange to share our stories. Why? We felt that our stories defined why we joined together..and by sharing them we begin to heal.
Here are some links that will tell you more about SA's mission and story...

SA's FB Page FULL of pictures and Information

SA in the NEWS and Ways that "Healing Happens."

Archived Online Newsletters

Archived SA Updates
~~~~~~~~~~~~~~~~~~~~~~~~~~~~~~~~

copyright(c)SHARE Atlanta '97-'2012



Graphics on this Site are Copyright