SHARE Atlanta
SHARE Atlanta's 2007 WalkAmerica Team!!

We walk to "Remember Our Babies"

April 28, 2007 - Olympic Park Downtown

Easy 5.2 mile gentle walk...with Van pick-up if necessary

Can walk anywhere in US and Support SA Team #562!

Read SA's story...See SA's Pictures!!!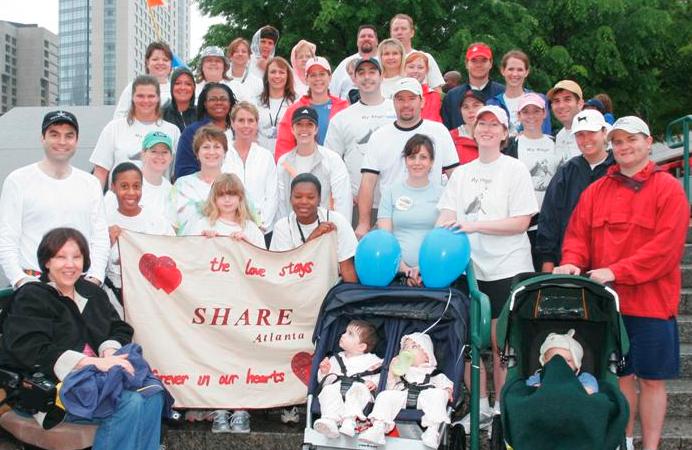 SHARE Atlanta Team #562 ~ 2006
Team 2006 Raised $34,062
SA won the 2nd Place National Family Team Award &
The Downtown Chairmen's Club Award plus our own WalkAmerica TENT for 2007!!

Click on hearts for PDF of this year's rewards reaped from last year's success! PLUS..
Kickoff Luncheon, walk, and historical pictures as well as updates!!!
Dear All,
SA - 2nd Placed National Family Team 2006 ~ Top Ten Chairmen's Club Downtown 2006 ~ TENT for Walk 2007
Please join SA in our 2007 WalkAmerica effort. You may walk, donate, or help in our very own TENT!! Once again, we have earned a place in The Chairmen's Club tents. I have attached as a pdf my March of Dimes/SA booklet full of Kickoff Luncheon, walk, and historical pictures as well as updates. Thanks to Jennifer Greer, we have been walking with MODs since 1998! If you wish to help us, please email our present Team Captain, Cindy.

E-mail Cindy, SA Team Captain

SHARE Atlanta's March of Dime's Detailed Menu - How, Where, When..

March of Dimes - Pushing SA's Issues & Needs (miscarriage-stillbirth & premature death) Up the Hill - Look what they are doing!

Active SHARE Atlanta members know that we have long wished for someone...*anyone*...to carry our banner of issues and needs up the hill. I think that you will find the March of Dimes fulfilling the bill. In Kansas City, at the National Conference, Cindy and I went to numerous workshops. We learned a great deal about the growing programs of the MODS.

Premature birth is the leading cause of newborn death in the first month of life. Itís on the rise - up 27% since 1981. In nearly half the cases, the causes are unknown. The March of Dimes is leading the way to find answers with its much needed research and awareness programs. Their research could lead to answers for stillbirth and miscarriage issues. Many of the conditions that cause prematurity cause stillbirth (toxemia, placental issues, birth defects, etc.) And, they are doing progesterone studies that could protect pregnancies from the very beginning!

As in the past, their 2007 campaign includes the use of folic acid to prevent neural tube defects. They are researching other birth defect issues as well. They also support newborn screening for healthy children. We provide their materials focused on prevention and intervention during healthy and difficult pregnancies. They partner with institutions-- such as the CDC, NIH, hospitals, schools, and companies--in hopes of ending pre-term and infant mortality. Their focus is healthy babies with healthy and happy futures. SHARE Atlanta walks for them: "To help MODS put us out of business."

The Taylors, 2007's ambassador family, share their incredible story about, Zeek, on a MOD'S video. It brings to mind what so many SHARE Atlanta parents have experienced. We wish to support the organization that speaks to the heart and soul of the Pregnancy and Newborn Loss Community.

Zeek's Video - It describes dramatic change, fear, and the lack of control around our most treasured gift, our child. Zeek's story ends beautifully. Our wish is that more stories will end like the Taylor's story.
Donating to SA, brings recognition for emotional and medical support
When you donate or walk, you bring to thousands and thousands of people's attention the issues that we wish to see worked with. As Cindy, Pat, Caden, and I received the 2006 National 2nd Place Family Team award, I was moved to tears as over 900 people cheered for us. (You can see this in the picture!) Our name was flashed on a huge screen. I felt what each person who donated or walked throughout the last 8 years might have felt...
It *isn't* about SA or the MODS.
It *is* about Pregnancies that last the "Whole 9 Months"
and "Healthy Babies - Happy Children."
Come join SA
...either donate to a SHARE Atlanta member OR Walk Yourself. Neither is difficult. There are a lot of charities out there. So supporting those that speak to our cause is important. Many companies will match a $25. donation or more. Lots of companies support the March of Dime'e effort. Every dollar counts because they all add up to helping us have healthy babies!
Your company or group can "partner" with SHARE Atlanta. They can raise money within their organization for SA's Campaign. They will sign-up as a separate team, and we would let March of Dimes know that we recruited them. We will recognize them in our newsletter and website. The combined effort will help SHARE Atlanta and March of Dimes.
Helpful Links:

Pick a SA member to donate to! SA's Member's URLs to their WalkAmerica Page with stories and pictures!

Raise Donations Yourself - MOD's Easy ONLINE Donation page

SA's "Walk to Remember Our Babies" - April 28 at Olympic Park

MODS Walk Locations - You can walk *anywhere and donate to SHARE Atlanta Team #562*
I am amazed how easy it is to do what we have worked so hard to do through the years!
Thank you!
Whatever you decide, know that we appreciate all that you do for The Pregnancy and Newborn Loss Community.
Take care,
Marcia and Cindy (SHARE Atlanta Team Captain)
The love stays...forever in our hearts.
We will "Walk to Remember Our Babies" April 28 at Olympic Park
But, you can walk *anywhere and donate to SHARE Atlanta Team #562* - See the WalkAmerica site for Walk Locations


SHARE Atlanta's March of Dime's Menu


Our website with Main Drop Down Box, Home Page,
and Music Drop Down Box
copyright(c)SHARE Atlanta '97-'07



Graphics on this Site are Copyright