SHARE Atlanta's Annual Memorial Service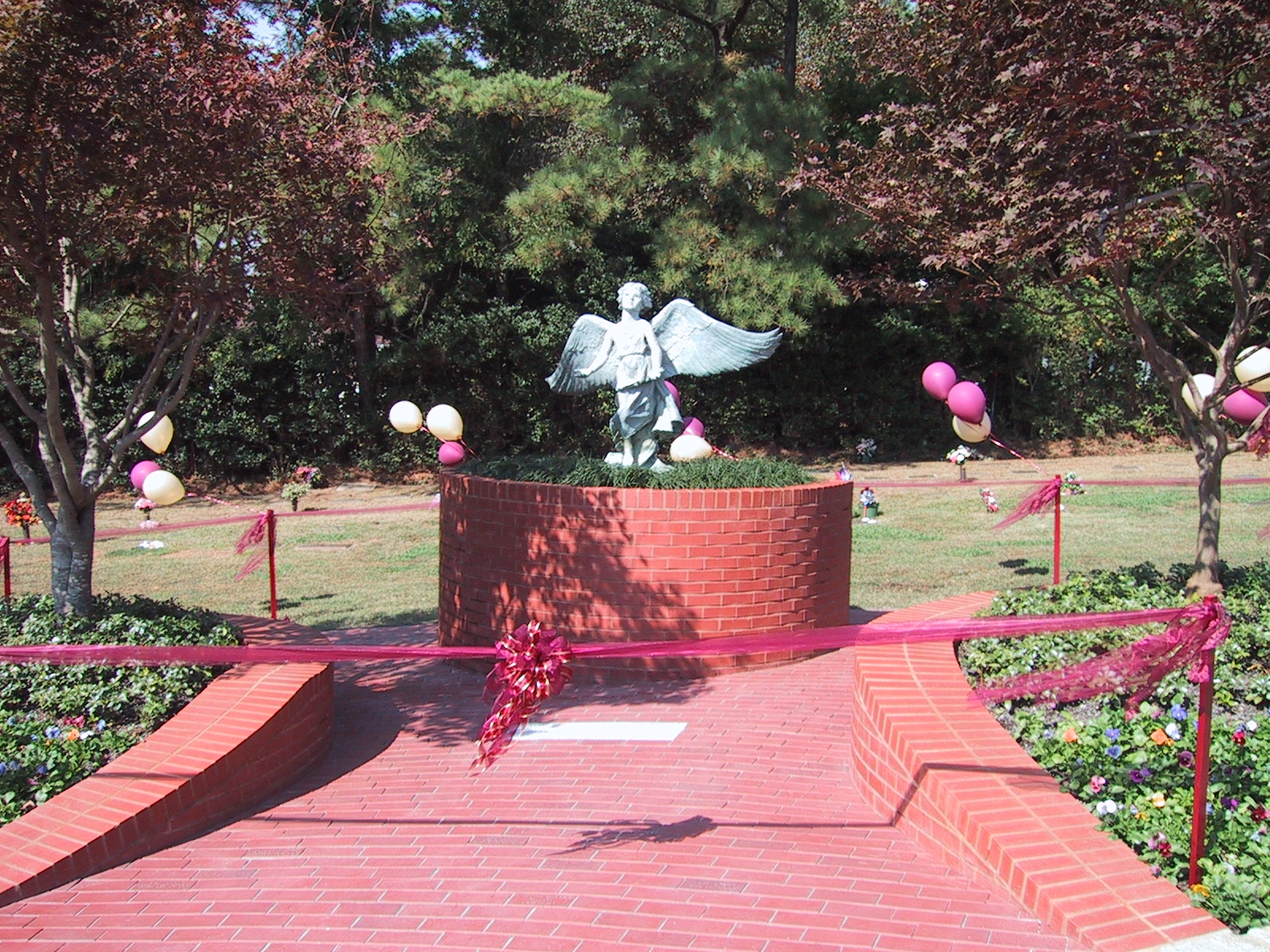 SHARE Atlanta's Angel at Dedication 2001
Dedicated in Memory of Our Babies...





Annual Theme

"The Love Stays...Forever in our Hearts."




pdf Fall Invitation to SA's Memorial Service and Candlelighting..click on the hearts.




Fourth Sunday of October at 3 pm
Babyland ~ at the SHARE Atlanta Angel Garden in Arlington Memorial Park, Sandy Springs, GA
Sunrise Chapel at Arlington Cemetery - Rain Location for our Memorial Services
See below for directions...



Litany ~ Candlelighting ~ Mementos ~ Music
Rose Petals ~ Poems and Stories ~ Bubbles ~ Balloons



A Time to Remember Together SA's First Memorial Service was in 1996, and we have held one most every year since that date. Our first Memorial service, at Springdale Park, on Ponce De Leon in form of a "Walk to Remember" was held on October 15, 1989. We have had an annual candlelighting and/or service since December 1985. These times together mean a great deal to our parents.
Litany of Babies' Names: To have your baby's name included in our written program as well as called out during our program that day, please email me.

Marcia - please include my baby's name...
SA's "Outreach for Healing" - Sometimes SA has special donations in memory or honor of our babies during our services. So, each year, please visit our site or facebook to find out any details to see if you wish to participate.
Whether your loss was 5 days or 55 years ago, it's never too late to grieve, to remember and to heal. Or if you just want time to remember your baby with love, please join us.
Gentle reminder about young children: For the comfort of our newly bereaved families, please leave your young children with someone you trust. Children eight or over who can remain attentive are welcome.

Directions to Arlington in Sandy Springs: From I-285, take the Roswell Road exit and turn North (outside the Perimeter). At the 2nd traffic light, turn left onto Hammond Drive. When Hammond ends, turn left onto Mt. Vernon Hwy and immediately right into Arlington Memorial Park. Once inside the park, take the first right and then the fourth left. The angel will be waiting for you at the bottom of the hill.
If it is raining, once inside the park, after about 200 feet take the first left. You will see the office directly ahead. After another 200 feet bear right. There will be two buildings on the left. Sunrise Chapel is the second building. There is a covered area to let people off. A balloon will be by the door.
Arlington's number is: 404.255.0750...


For More Information: Marcia's email

SHARE Atlanta Memorial Service Pictures from 2004...

ORDER Memorial Bricks ~ click on hearts

pdf of Flyer for SA's Angel Garden Memorial Service. If you would like to share this event with others, copy the flyer and post it on BB such as at church, community center, or anywhere you think there might be a family who would like to share in this event. Thank you!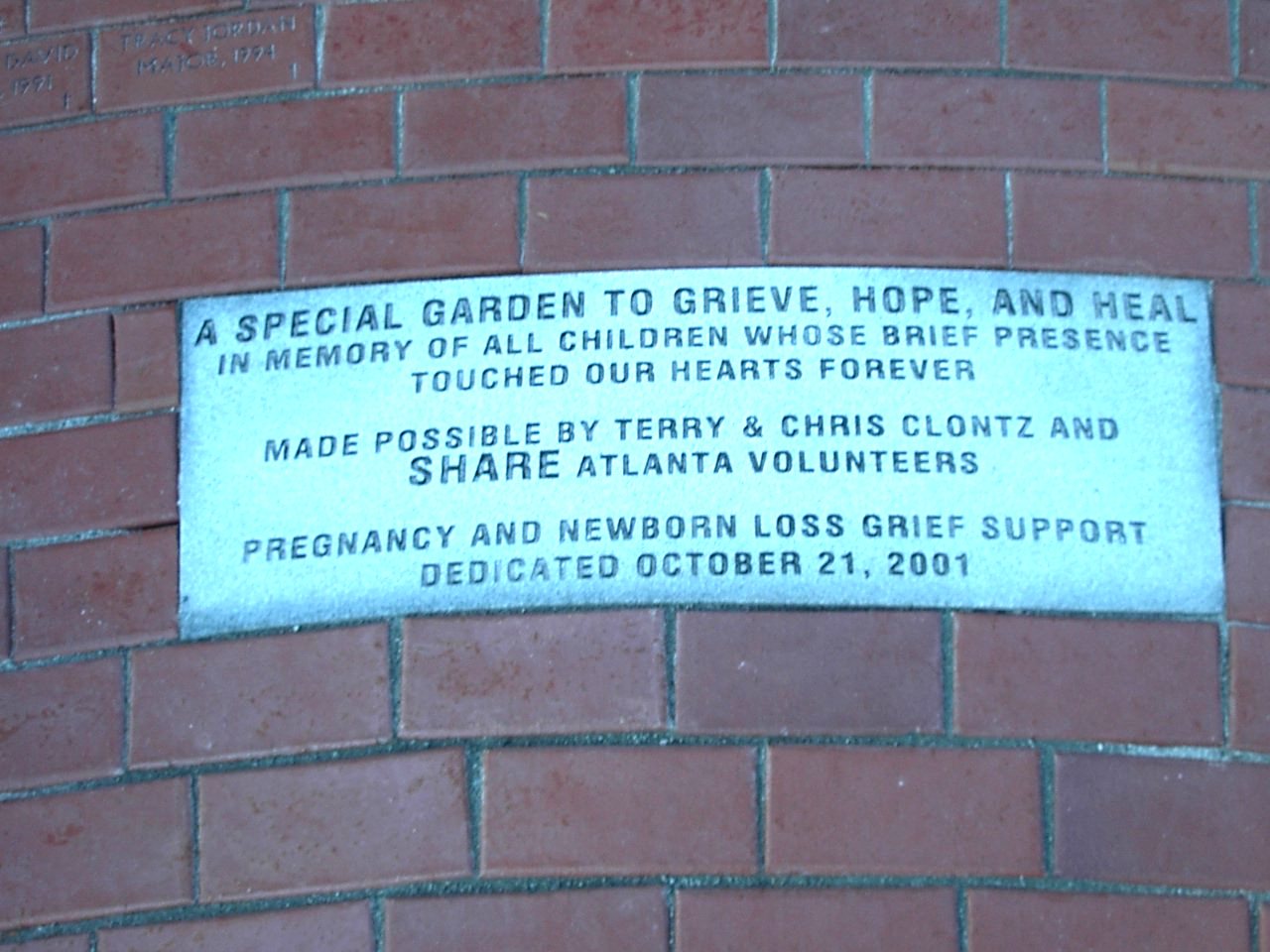 The beautiful plaque that was donated to us by Rusty and Cindy of Star Granite
Friends of SHARE Atlanta members, Todd and Melina Smith.


Return to "SHARE Atlanta Celebrations/Services"
copyright(c)SHARE Atlanta 10/97-'13



Graphics on this Site are Copyright