SHARE Atlanta
"Sharing" Our Stories/Thoughts - Along this Path

"The Readings..."

My joy, my love, my darling star
Whispering your dreams to me at night
Your dark curls of silk and shadowed eyes
Call back other memories to recite

I remember the tiny flutter of a heart
Brief and unexpected, pure bliss
How could mommy have known that her angel would die
While expecting a bundle of smiles to kiss

When sharp and deep the labor pierced me
I felt the pain split me apart
There is no hurt like that to a mommy
With empty arms and a broken heart

But on I press to find my healing
To push forward and abandon my past
And my daughter takes every step with me
Through the shadows my grief has cast

She knows my heart, she knows my soul
I feel her approving smile
When I do the right thing to tak care of myself
But, dear God, how I miss my child

My angel, my hope, my shining star
Though we are never far apart
Mommy will learn to love even through
The empty arms and the broken heart

Nicole Swann
SHARE Atlanta
In loving memory of Kristin "Taylor" D.
Miscarried March 6, 1997
.........Forever in Our Hearts.........







Should we or shouldn't we? Ever since we experienced the loss of our first child I have wondered if we should name our baby. Having lost our baby at just 14 weeks, we are often reminded that people aren't sure if it really was a baby. In the beginning we were content to refer to the baby as "Baby Celka" but never by a name. After going to the Women's Candlelighting this year, I was touched by the loving references to all the babies, these little people with names who were loved even though they were here for a brief time. I immediately came home and talked to my husband about his feelings regarding naming our baby. This brought us to the questions of why - why now and why at all. The answers are because I need Baby Celka to become a little person who can be referred to by name. I need Baby Celka to become a real member of our family - to be remembered by all our friends, grandparents, aunts, uncles, and cousins. Why now? Because it's time for us, time to truly acknowledge...

Dakota C. miscarried April 1995



Ondrea C.
SHARE Atlanta
Spring 1998



.........Forever in Our Hearts.........















THE YEARLY DILEMMA





The brick pathway project at Arlington Memorial Park and the upcoming candlelightings have brought to my conscious mind, once again, the dilemma that I have faced each year since 1991. Whether or not to give my deceased babies a name.

To give you some brief background, my husband Bob and I lost a little girl to miscarriage at about 3 months in 1991 and a little boy also to miscarriage at about 3 months in 1992. I am fortunate to have a wonderfully sensitive husband and I truly believe that Bob felt the grief of our losses, in his own way, as intensely as I did at the time of their occurrences. However, Bob would be the first one to admit that he has not spent nearly as much time subsequent to these losses as I have reflecting on them. As such, the decision of whether or not to assign names to our babies is one that is left primarily to me. I remember the first few candlelightings that I attended thinking to myself - everyone else's baby seems to have a "name". It bothered me to think that I might be depriving my children of something that perhaps they should have. I even went through baby name books and wrote down ones that I liked, thinking that one day I would choose "just the right name" for each of them.

Last month, when I filled out the application for bricks to be placed in the pathway at Arlington, I filled out everything, except the "name" part and let it sit on my desk for several weeks. Each time I passed my desk and saw the incomplete application, I'd think, I'm just too busy right now to choose. It seemed so permanent to me, and such an overwhelmingly monumental task, that I wanted my mind to be unencumbered and totally focused when I picked those perfect, everlasting names. But as the days and weeks passed, I began to feel less and less comfortable with my decision to give the babies names. I had always just "assumed" that one day, they would have "real" names. But the more I thought about it, the more it felt right, for me, to continue calling them what I had been calling them now for 7 years - "The Blum Babies" or "Baby Girl Blum" and Baby Boy Blum". That's who they've always been to me and while I'm of this Earth, that's who they will remain for me - never aging, perfect and innocent little babies.

It was Jennifer Greer's suggestion that I write this article giving, perhaps, a viewpoint somewhat different from the norm. I thank you Jennifer for planting the seed that enabled me to realize that my naming decision was made years ago. I just wasn't aware of it until now.

Kathleen B.
Share Atlanta
In loving memory of the "Blum Babies"
Fall 1998




.........Forever in Our Hearts.........









Annie's Birthday Gift



It's the middle of the night. I wake up and immediately sense a change in the atmosphere. I recognize your gentle presence and acknowledge it is OUR TIME to be together. I've decided that these frequent 3 am awakenings are when you come to me - at the time you should be nestled at my breast. Could it be that you want to be with me as much as I want to be with you? I approach this sacred communion with a profound reverence. From the depth of my being I thank God for all the many graces I have received because of you.

This night is special because it is your birthday. I am aware of both joy and sadness because you were born still and quiet and so this day also marks your death. The excruciating reality is that you are not here physically. I can't rock you to sleep in my arms, sing your favorite lullabye softly as I tuck you in your bed. This is not what I had planned. Reluctantly I accept what is to be and rejoice for the very essence of you. I praise God for our little visits.

Each day that passes I become more aware of the gifts you have bestowed not only to me but to others as well. It truly amazes me that one so small and on earth for so short a time could make such a difference in the lives of so many. You are significant!

I have been contemplating how to celebrate your birthday this year. A few weeks ago I discovered that ShareAtlanta will have a brick pathway at the Memorial Garden in the baby section at Arlington Cemetery. We are going to purchase one for you and one for Michael. Your name and date will be engraved. I chose to have a heart engraved in the corner to acknowledge that (my heart) is where I can take you with me and we can be together. I can also leave my heart there with you. I am so excited that we will have a place to go and commemorate that you DID exist! It's like giving you a voice... I am reminded of Scripture that says, "Even when the voices are silent, the rocks themselves will start to sing!"

Happy Birthday, my little Annie!

Love,
Mother
Peggy G. B.
In loving memory of Annie
7-21-98



.........Forever in Our Hearts.........









My Little One

At last you are home,
your final resting place.
For as your mother
I return you to this
lovely mother earth.

I have yearned for the day
I could nurture and protect you,
Not like other "Mommies"
But in my own "special" way.
For this is the hadn dealt me
And I'll guard it to the fullest.

Not everyone understands this need that I have,
But you, my sweet, know the blessed time that we shared.
Though short that it was,
No more meaningful could it have been.,
For you were my second on our growing family tree.

Though life has been a challenge,
No greater challenge could I have met.
To know you so shortly,
To have to give you up to something greater yet.
But I do this all knowing in the depth of my soul
That our hearts will rejoin in another time and place.

Oh, and need I mention,
As if you didn't know,
A dear sweet brother has joined you on that growing family tree.
Though some peace he has brought,
And great joy I have known,
He can never fill the void of a time and a place I would watch you
Run and smile and play.

For in our photos there will always be
You missing, absent in place.
With your siblings your loss is of profound embrace,
But, together, they will know of your place on that tree longing to be filled.

You matter, my sweet, though a short time we had.
Such great magnitude you meant,
In the scope of our lives,
And forever I will know of the blessing of your coming.

But now, rest my little one, for home you now are,
Near family and friends,
Even ones from afar.
Once again, I can nurture and care for you in our own "special way",
Until we do meet again - on that sweet glorious day.

Your mommy (Robin G.)
In honor and memory of Marissa Caroline G., May 27, 1995.
Written Friday, February 6, 1998, 3:00 a.m.
.........Forever in Our Hearts.........

You Never Knew

You made an impression on my mind,
Although I never saw your face.

You made a mark upon my body,
Still my arms held your empty place

You have a hold onto my heart,
But our dreams did not come true.

You have a place within my soul,
Forever, I will love you.

Mind, Body, Heart, and Soul

Elijah Thomas - July 4, 1992

Autumn Bray - October 31, 1992

Frances Grace - May 6, 1994

Sarah Elizabeth - August 14, 1994

Samuel Brown - September 22, 1996

Jeremiah Davis - February 20, 1997

Polly Keen
SHARE Atlanta
.........Forever in Our Hearts.........

I Will Remember You

(Music and Lyrics by Sarah McLachlan, Seamus Egan, and Dave Merenda)

Originally featured on the motion picture soundtrack
"The Brothers McMullen" (Unforscene, 1995)

I will remember you
Will you remember me?
Don't let your life pass you by
Weep not for the memories
I let them slip away from us when things got bad
How clearly I first saw you smilin' in the sun
Wanna feel your warmth upon me, I wanna be the one
Will you remember me?
Don't let your life pass you by
Weep not for the memories

I'm so tired but I can't sleep
Standin' on the edge of something much too deep
It's funny how we feel so much but we cannot say a word
We are screaming inside, but we can't be heard

But I will remember you
Will you remember me?
Don't let your life pass you by
Weep not for the memories

I'm so afraid to love you, but more afraid to loose
Clinging to a past that doesn't let me choose
Once there was a darkness, deep and endless night
You gave me everything you had, oh you gave me light

And I will remember you
Will you remember me?
Don't let your life pass you by

Weep not for the memories

And I will remember you
Will you remember me?
Don't let your life pass you by

Weep not for the memories
Weep not for the memories

sung by Nicole C. and signed by Nicole S.
In memory of Kristin "Taylor" D.
.........Forever in Our Hearts.........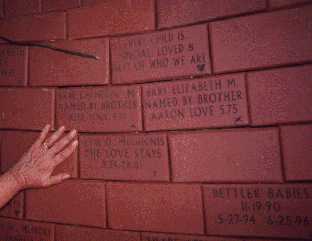 In Another Time and Place

In another time and place would there be
No tears?
No grief?
No pain?
No emptiness?
No asking "why me?"
No funeral?
A healthy heart?

In another time and place would that mean
Not having held you?
Not having seen your sweet face?
Not having gazed into your eyes?
Not having a "Sean" in our lives?
Not having a guardian angel to guide our steps?
Not having our moments together?
Not being your mother?

In another time and place there may have been "no Sean"
And now
There would be no "me."

Written in loving memory of my son
Sean Wesley K. (7/26/95 - 7/28/95)
You have changed my life for eternity...Mommy
Janet K.




.........Forever in Our Hearts.........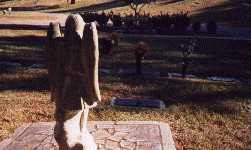 The path and garden as "seen" by
the angel in Babyland.


Pregnancy and Infant Loss Awareness Menu


copyright(c)SHARE Atlanta 10/97-'01



Graphics on this Site are Copyright