SHARE Atlanta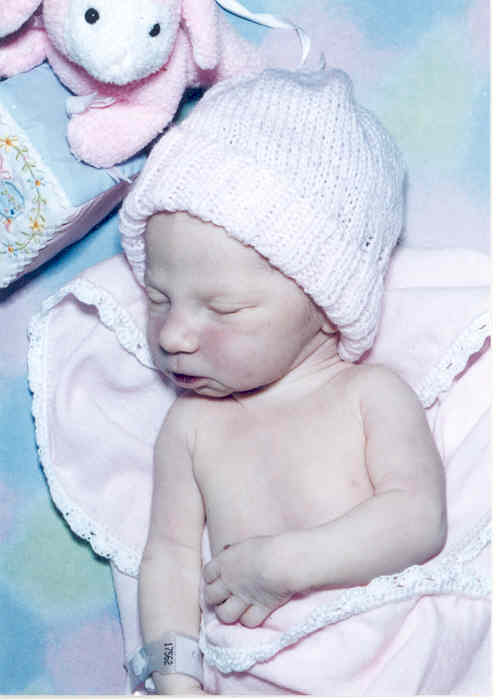 "I walk in memory of Lacey MaKenna Ivey."
This year I have decided to participate in the March of Dimes WalkAmerica. It takes place April 24, 2004. I will begin my 5.5 miles journey at Centennial Olympic Park in Atlanta, Georgia.
In the past three years I have participated in the 2001 and 2002 Avon Breast Cancer 3-Day walks and THANKS to many generous donations I raised a TOTAL of $7081.55 – WOW!! In 2003 I participated in the Relay for Life walk and raised $2120.00 - INCREDIBLE!! Bringing my "fundraising" GRAND TOTAL to: $9201.55 - UNBELIEVABLE!!
The 2002 Avon Breast Cancer 3-Day was in "honor" of my special friend, Janice Duncan. Unfortunately, by the time the Relay for Life walk rolled around Janice had lost her battle with cancer so I was "forced" to walk in her "memory". I also walked in "honor" of Marianne "McLelland" Hudson, a high school friend who was diagnosed with Leukemia in January 2003. Sadly, Marianne's fight for her life came to an end in the early morning hours of February 1st 2004, a year and a day after her initial diagnoses.
This year is my most difficult walk to date, I am "forced" to walk in "memory" of my daughter Lacey MaKenna Ivey who was with me for 38 "special" weeks and was stillborn on September 16, 2003. I have set a goal of $2000.00 but am hoping, with your help, to reach at least the $3000.00 mark!! I would ask that you donate only what your heart and wallet will allow. What a WONDERFUL feeling to know that by our donations we are helping save lives!! That's what the "March of Dimes" is all about – "Saving babies, together".
Your Support Helps In The Fight Against Premature Birth
When you donate to WalkAmerica, you're helping the March of Dimes fight a national crisis — premature birth. Today, 1 in 8 babies is born prematurely. Many die; others face lifelong disability. The money you donate to WalkAmerica supports March of Dimes research and programs to find answers to what causes premature birth and what can be done to prevent it.
Today in the U.S., 1 in every eight babies will be born prematurely. Some of them won't survive, and others will have health problems that could last a lifetime. The funds we raise in WalkAmerica support research that saves babies' lives.
The mission of the March of Dimes is to improve the health of babies by preventing birth defects and infant mortality.

Until we have more answers, anyone's baby could be next.

Lacey's death was not the result of "premature birth" but from a condition called Vasa Previa. This is when the intramembranous fetal blood vessels cross the internal os. It has a high fetal mortality because of the hemorrhage that occurs when these vessels are torn at the time of labor, delivery or when the membranes rupture. Vasa previa often remains unsuspected until this fatal fetal vessel rupture occurs. The reduction in the fetal mortality from this condition depends on its antenatal diagnosis. In one very big series, this condition was suspected in 18 pregnancy among 93,874 second and third trimester pregnancies and confirmed in 15, which means the incidence was of about 1.6:10,000 pregnancies. In another (prospective) study, vasa previa was diagnosed in two cases out of 586 (1 in 293 pregnancies). So, the incidence varies from one series to another one, being considered for some to be around 3:10,000 pregnancies.

My March of Dimes WalkAmerica team is SHARE Atlanta http://www.shareatlanta.org/. They have been my "support" during these last few horrible months. They are a WONDERFUL organization ran by volunteers who have experienced a pregnancy or newborn loss themselves. They provide a support system for bereaved parents who have suffered a pregnancy or newborn loss. Their primary focus is on parental issues so healing can gradually occur.

I'm doing the March of Dimes – WalkAmerica for every baby that has been lost and for the "devastated" families that they leave behind and for myself, as part of my healing. Burying my "tiny, precious" baby girl was the hardest thing that I have EVER had to face. I don't wish this "journey" on anyone.

The date to turn in funds raised for the "March of Dimes WalkAmerica" is April 24, 2004. I cannot do this alone; I have 2 ways you can donate:

1) Send donation directly to:

Cindy Ivey
Make check payable to "March of Dimes"
Memo: In memory of Lacey MaKenna Ivey



2) Donate online:

http://www.walkamerica.org/GCIVEY97

I thank you in advance for your support. Together, we will make a difference!

Cindy Ivey

Forever In Our Hearts
Lacey MaKenna Ivey
September 16, 2003






SHARE Atlanta's March of Dimes Menu"


copyright(c)SHARE Atlanta '97-'04



Graphics on this Site are Copyright